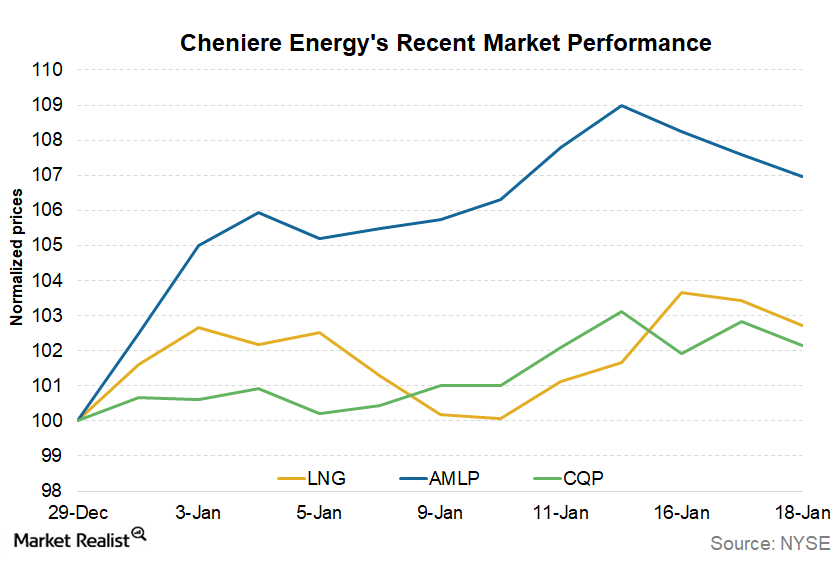 How the Recent Trafigura Deal Could Boost Cheniere Energy's Stock
Cheniere Energy's SPA with Trafigura
Cheniere Energy's (LNG) subsidiary, Cheniere Marketing, recently entered into a long-term SPA (sale and purchase agreement) with Trafigura. Under the agreement, Trafigura has agreed to purchase 1 mtpa (million tons per annum) of LNG (liquefied natural gas) from Cheniere Marketing. The SPA is expected to lower Cheniere Energy's volume and global LNG price exposure.
Article continues below advertisement
Cheniere Energy's recent market performance
Cheniere Energy has had a sluggish start to 2018, having gained 2.7% since the start of the year. At the same time, the Alerian MLP ETF (AMLP) has risen 7.0%, while the SPDR S&P 500 ETF (SPY) (SPX-INDEX) has gained 4.6%.
The recent deal with Trafigura is expected to lower the company's earnings volatility in the future. This deal and strong LNG prices could boost Cheniere Energy's stock performance in coming days.
Cheniere Energy's historical performance
Cheniere Energy has gained 29.2% over the past year. At the same time, Cheniere Energy's subsidiaries, Cheniere Energy Partners (CQP) and Cheniere Energy Partners LP Holdings (CQH), have gained 6.9% and 24.3%, respectively.
Cheniere Energy is outperforming AMLP and SPY by 3,840 bps (basis points) and 610 bps, respectively. Cheniere Energy's outperformance of AMLP could be attributed to its strong cash flow growth, driven by a rise in LNG shipments and the current government's boost to US LNG exports.
Despite its recent gains, Cheniere Energy is still trading significantly below the highs it saw before the rout in energy prices. Meanwhile, US markets are at all-time highs.
Series overview
In this series, we'll discuss whether Cheniere Energy can gain upward momentum from here. We'll look into Cheniere Energy's technical indicators and price forecast, and then we'll look into Cheniere Energy's valuation and analyst recommendations.