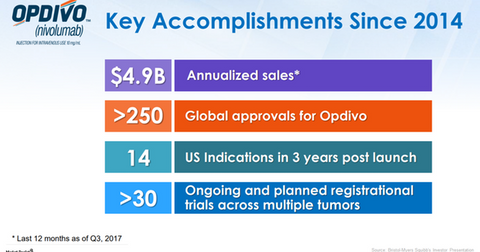 How Opdivo Is Positioned at the Beginning of 2018
By Daniel Collins

Updated
About Opdivo
Bristol-Myers Squibb's (BMY) Opdivo is an immune checkpoint inhibitor that currently has U.S. Food and Drug Administration (or FDA) approval for the treatment of individuals with BRAF V600 mutation-positive unresectable or metastatic melanoma and BRAF V600 wild-type unresectable or metastatic melanoma. Opdivo is also used as a combination therapy with Yervoy for the treatment of individuals with metastatic melanoma. Opdivo is also used to treat individuals with metastatic NSCLC (non-small cell lung cancer) who demonstrated disease progression after platinum-based chemotherapy.
Opdivo also has the following indications:
advanced renal cell carcinoma
classical Hodgkin lymphoma
metastatic squamous cell carcinoma of the head and neck
microsatellite instability-high or mismatch repair deficient metastatic colorectal cancer
hepatocellular carcinoma
metastatic urothelial carcinoma
Article continues below advertisement
Recent developments
In December 2017, the U.S. FDA accepted Bristol-Myers Squibb's supplemental biologics license application (or sBLA) for priority review of Opdivo and Yervoy combination therapy for the treatment of intermediate-risk and poor-risk individuals with advanced renal carcinoma. Previously, the U.S. FDA granted the drug its Breakthrough Therapy Designation (or BTD). Bristol-Myers Squibb's sBLA is supported by data from the phase 3 CheckMate 214 trial, which was stopped early based on recommendations from an independent data monitoring committee after a planned interim result analysis of overall survival.
The FDA has set a Prescription Drug User Fee Act action date of April 16, 2018. FDA approval of label expansion could further strengthen Opdivo's commercialization capabilities. RCC is a type of kidney cancer that accounts for more than 100,000 deaths worldwide each year. Clear-RCC is the most prevalent form of RCC, constituting about 80% to 90% of all RCC patients.
Some of the important drugs for RCC include Novartis's (NVS) Afinitor, Roche's (RHHBY) Avastin, Pfizer's (PFE) Inlyta, and Bayer's Nexavar. Revenue growth for Opdivo could boost the Vanguard S&P 500 ETF (VOO). Bristol-Myers Squibb makes up about ~0.44% of VOO's total portfolio holding.