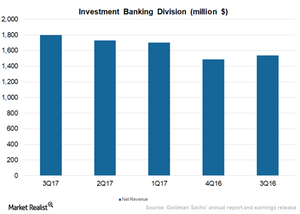 Goldman Sachs and Its Commanding Investment Banking Division
Financial advisory
Goldman Sachs's (GS) Investment Banking segment generated revenues of $1.8 billion in 3Q17, which was a 4% rise compared to 2Q17. Mergers and acquisition volumes were high in the industry in 3Q17 compared to 2Q17. Growth momentum in the economy and higher liquidity led to higher investment banking revenues.
A major contribution was advisory revenues, which were $911 million, a 22% increase from 2Q17, mainly reflecting higher completed mergers and acquisition transactions. Year-to-date, Goldman Sachs stands first in worldwide announced and completed mergers and acquisitions.
Article continues below advertisement
Underwriting
The Investment Banking division includes advising for fundraising through equity, debt, and other instruments. GS's major activities include public equity and debt offerings, private placements, and cross-border transactions for a variety of asset classes. The company also underwrites mortgage-related securities and other asset-backed securities.
Net revenues from underwriting were $886 million in 3Q17, a 10% fall on a sequential basis.
Equity underwriting revenue was $212 million. The IPO (initial public offering) volume was at a high in 2Q17, while volume declined drastically in 3Q17. Revenues thus fell ~18% for 3Q17. After a low quarter, IPO volume is expected to rebound in the next quarter.
Debt underwriting revenue was $674 million, a 7% fall, due to a strong second quarter. Revenues include strong acquisition finance activity.
As of the end of 2017, Goldman Sachs ranked first in worldwide common stock offerings and had a leading position in leveraged finance.
Organization of the Investment Banking division 
Goldman Sachs's Investment Banking Department (or IBD) has two areas: IBD Classic and Financing.
Revenues in debt and equity underwriting are expected to increase due to an increase in industry-wide leveraged financing activity and increasing offerings.
Goldman Sachs competes with investment banking firms Morgan Stanley (MS), Citigroup (C), Bank of America (BAC), and other diversified financial services firms that form 19% of the Financial Select Sector SPDR ETF (XLF).