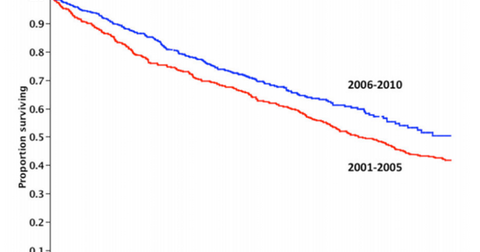 GlaxoSmithKline Is Focused on Developing Oncology Asset GSK 916
By Margaret Patrick

Updated
Multiple myeloma market opportunity
According to Kantar Health and Decision Resources, multiple myeloma (or MM) accounts for around 15% of the hematological malignancies in the world and ranks second in terms of incidence among the various blood cancers after non-Hodgkin's lymphoma. GlaxoSmithKline (GSK) estimates the global incidence of MM to be close to 124,000 with 30,000 patients in the US, 27,000 in EU5, and around 8,000 in Japan.
The above diagram shows that despite the advent of multiple new treatment options from companies like Celgene (CELG), Johnson & Johnson (JNJ), and Amgen (AMGN), the five-year survival rate for MM patients continues to be below 50%. This highlights the significant unmet need in the MM marketplace.
Article continues below advertisement
In 2016, the global market value of MM was around $12 billion, a year-over-year (or YoY) rise of 40%. An EvaluatePharma MM report estimates that the MM segment will continue to grow at a compounded average growth rate (or CAGR) of more than 16% and boost the overall global MM market value to more than $29 billion by 2022.
Investigational oncology asset GSK 916
GlaxoSmithKline is currently studying its leading oncology asset, anti-B-cell maturation agent (or anti-BCMA) antibody drug conjugate (or ADC) GSK 916, in the MM indication. On November 2, 2017, this asset secured "Breakthrough Therapy Designation" from the U.S. Food and Drug Administration (or FDA) as monotherapy for relapsed and refractory MM patients who have failed to respond adequately to at least three previous treatment options including anti-CD38 antibody. These MM patients also need to be refractory to an immunomodulatory treatment option as well as proteasome inhibitor. In October 2017, the European Medicines Agency (or EMA) also granted PRIME designation to GSK 916 in a similar MM indication. This investigational drug has also secured orphan drug designation from the FDA and EMA in MM indications in 2017.
GlaxoSmithKline makes up about 0.56% of the First Trust Value Line Dividend Index Fund's (FVD) total portfolio holdings.
In the next article, we'll discuss growth prospects for GlaxoSmithKline in the MM segment in greater detail.