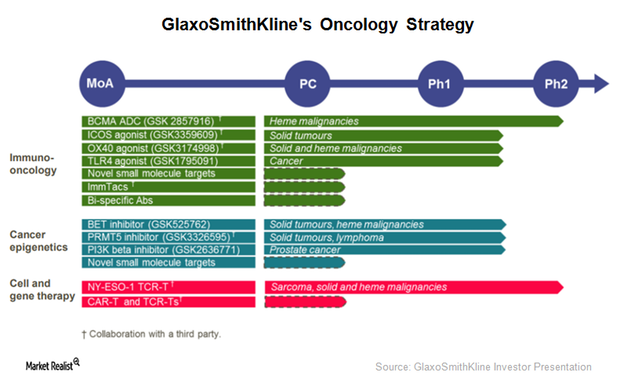 GSK Is Focused on Innovative Assets in Oncology Research Pipeline
Oncology research pipeline
In addition to the anti-B-cell maturation agent (or anti-BCMA), antibody-drug conjugate (or ADC) GSK 916 for multiple myeloma (or MM), GlaxoSmithKline (GSK) is also studying inducible co-stimulator molecule (or ICOS) agonist in the solid tumor indication, hematologic cancer indications, and Toll-like receptor 4 (or TLR4) agonist in a range of cancer indications. The company also plans to study the combinations of these innovative drugs with each other or with other agents to further expand its oncology pipeline.
Article continues below advertisement
Additionally, GlaxoSmithKline is also studying some novel small molecule agents that can act as tumor markers. The company in collaboration with Immunocore is working on the ImmTacs program to develop bispecific antibodies that can help T-cells target tumor cells. Further, GlaxoSmithKline is also evaluating the potential of multiple bispecific antibodies in different formats.
GlaxoSmithKline is also a leading player in the field of cancer epigenetics. Finally, GlaxoSmithKline has also entered into collaboration with Adaptimmune for the NY-ESO-1 TCR-T program, which has already secured "Breakthrough Therapy Designation" from the U.S. Food and Drug Administration (or FDA) and PRIME designation from European Medicines Agency (or EMA).
GlaxoSmithKline accounts for around 2.0% of the BLDRS Developed Markets 100 ADR Index Fund's (ADRD) total portfolio holdings.
GSK 916 planned development
In 2018, GlaxoSmithKline aims to initiate a pivotal phase 2 trial to evaluate GSK 916 as monotherapy Darzalex refractory population as the fourth line or the last line of multiple myeloma therapy. The company anticipates data readout from this trial in 2019 and plans to file a new FDA drug application and launch the drug as early as 2020.
Additionally, GlaxoSmithKline also plans to initiate a phase one-two study to evaluate the combination of GSK 916 with standard of care therapy including lenalidomide and pomalidomide, as a second line of multiple myeloma therapy. Data readouts from these trials and decisions related to the initiation of a pivotal study for these regimens is expected to be taken by 2020. GlaxoSmithKline also plans to initiate another phase one-two study evaluating the combination of GSK 916 with other novel agents in several multiple myeloma indications across multiple lines of therapy. The data from these trials are also anticipated by 2020.
GlaxoSmithKline also plans to study the potential of GSK 916 in the non-Hodgkin's lymphoma indication. GSK 916 is thus expected to enable GlaxoSmithKline to compete aggressively with other hematologic oncology players such as Johnson & Johnson (JNJ), Novartis (NVS), and Celgene (CELG).
In the next article, we will discuss growth prospects for GlaxoSmithKline's consumer healthcare portfolio in greater detail.