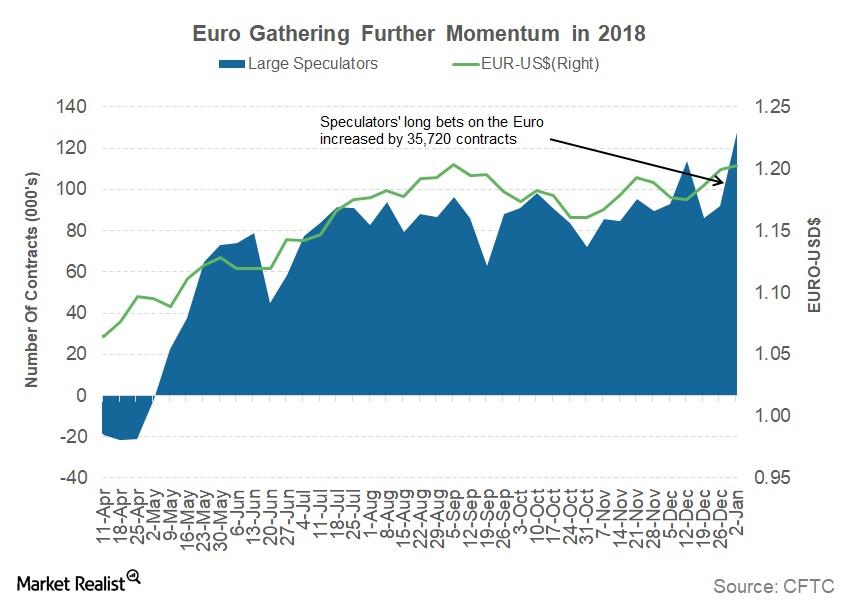 Factors That Are Driving the Euro Higher
Euro starts 2018 on a positive note
The euro-dollar exchange rate (FXE) closed at 1.203. The euro appreciated 0.27% against the US dollar (UUP) after posting double-digit gains against the US dollar in 2017. Economic data reported last week indicated that growth in the European Union continued to expand at a healthy pace. Reports stated that European unemployment, German retail sales, and the Eurozone PMI (Purchasing Managers' Index) all improved in December, helping the euro, the shared currency, to appreciate.
European equity markets (VGK) began 2018 on a positive note in line with all the global indexes. The German DAX (DAX) ended the first week of the year 3.1% higher. The SPDR Euro STOXX 50 ETF (FEZ) rose 2.96%, and the France CAC rose 2.98% last week.
Article continues below advertisement
Euro speculators increase bullish positions
According to the latest COT (Commitment of Traders) Report released on January 5, 2018, by the CFTC (Chicago Futures Trading Commission), speculators increased their long euro positions by 35,720 contracts last week. The total net speculative bullish positions on the euro (EUFX) have increased from 92,148 contracts in the previous week to 127,868 as of January 2, 2018. A simultaneous increase in speculative long positions and price could be an indication that large traders are expecting further gains in the shared currency.
Outlook for the euro
The euro could continue its ascent toward 1.21, backed by economic progress in recent months and the continued weakness of the US dollar. Economic data from the Eurozone are limited this week, but the key focus could be on the minutes of the ECB (European Central Bank) meeting from December 2017. If there were any discussions about tapering in the last meeting, the euro could rally further. If the members discussed the sharp rise in the euro and the negative impact it could have on exports, we could see some selling pressure.
In the next part of this series, we'll look at the British pound and whether it could continue to appreciate.