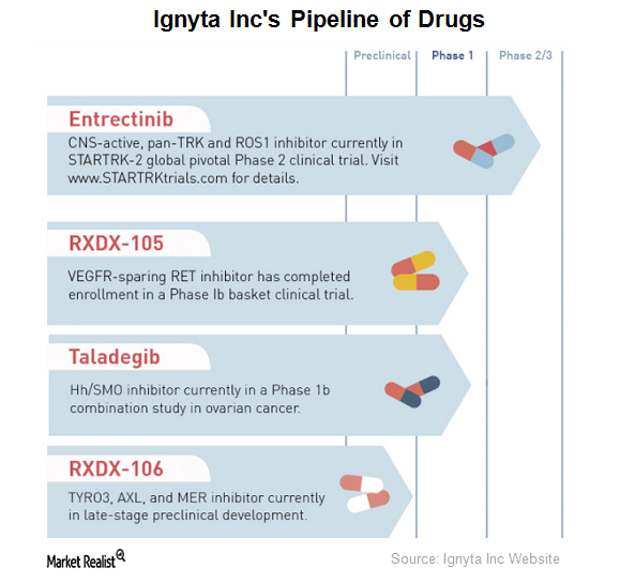 Ignyta's Drug Pipeline
RXDX-105 and RXDX-106
Ignyta (RXDX) has completed enrollment for a Phase 1 clinical trial of RXDX-105, an orally bioavailable small molecule tyrosine kinase inhibitor.
RXDX-106 is a small molecule immunotherapy agent with anti-tumor activity. The drug displays anti-tumor activity in isolation and in combination with checkpoint inhibitors. It's expected to restore immune function of the body by reversing immune suppression of the immune cells in the tumor environment.
In March 2015, Ignyta acquired Cephalon and assumed the rights and obligations for RXDX-105 and RXDX-106. These rights are subject to a previous collaboration agreement between Cephalon and Daiichi Sankyo.
Under the agreement, Ignyta is required to make development, regulatory, and sales milestone payments to Daiichi Sankyo up to $44.5 million for RXDX-105 and up to $47.5 million for RXDX-106.
Upon achieving commercialization of RXDX-105 or RXDX-106, Ignyta is obligated to pay tiered royalties to Daiichi Sankyo. These royalties range from single-digit to low double-digit percentages of net sales.
Article continues below advertisement
Taladegib
In November 2015, Ignyta entered into a licensing, development, and commercialization agreement with Eli Lilly (LLY). Under the agreement, Ignyta received exclusive global rights to develop and commercialize Eli Lilly's product candidate taladegib.
Ignyta granted the license back to Eli Lilly to develop combination products that include taladegib. In 1Q17, Ignyta amended the agreement with Eli Lilly and is obligated to pay Eli Lilly $15 million in time-based milestones. It paid the first milestone installment of $3 million in 1Q17. The rest of the installments are payable in the first quarter of the subsequent three calendar years.
While Ignyta is liable to pay mid-single digit royalties on net sales to Eli Lilly upon commercialization of taladegib, Eli Lilly is also liable to pay royalties on the commercialization of any combination products that include taladegib.
Approved products competing with taladegib include Roche Holdings' (RHHBY) Erivedge, which was approved by the FDA (U.S. Food & Drug Administration) in 2012, and Odomzo, which was approved by the FDA in July 2015 to treat basal cell carcinoma. In December 2016, the global marketing rights for Odomzo were acquired by Sun Pharma from Novartis (NVS) for $175 million.
Ignyta makes up 0.41% of the total portfolio holdings of the iShares Micro-Cap (IWC).
In the next part of the series, we'll take a look at Ignyta's financials.