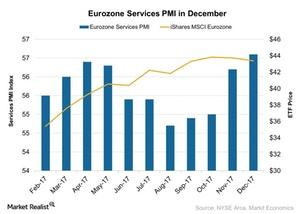 Eurozone Services Activity Reached 6-Year High in December
Eurozone services PMI in December
According to a report by Markit Economics, the final Eurozone services PMI (purchasing managers' index) showed a strong improvement in December 2017. It stood at 56.6 in December as compared to 56.2 in November. The PMI figure beat the preliminary market estimate of 56.5.
Eurozone services PMI reached a six-year high in December 2017. Various member countries of the Eurozone (N100-INDEX) such as Germany (EWG) (DAX-INDEX) and Italy posted stronger service PMIs in December 2017. Similarly, the Eurozone manufacturing PMI reached a multi-decade high in December 2017.
The solid improvement in the Eurozone services PMI in December was mainly due to the following factors:
Production volume and output rose at a higher rate.
New business orders and export orders rose at a faster pace.
Job growth in the service sector also rose at an accelerated rate.
Article continues below advertisement
Impact on the economy
The solid improvement in the manufacturing and service activity of the Eurozone (N100-INDEX) is signaling that the economy is in better condition than it was before. The improvements in the business confidence and the consumer confidence are also strengthening investor sentiment.
Major ETFs of the Eurozone showed mixed performances in December 2017. The Vanguard FTSE Europe ETF (VGK) improved 1% in December 2017. However, the iShares MSCI Eurozone ETF (EZU), which tracks the performance of the Eurozone (IEV), fell 0.3% in the same month.
In the next part of this series, we'll look at the services PMI for the UK (EWU) in December 2017.