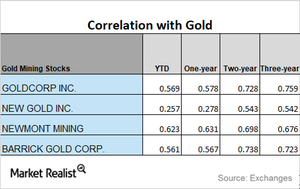 Your End-of-2017 Correlation Study of the Major Miners
Correlation reading
When reading precious metal performances and mining stocks in general, it's crucial to analyze the correlation of mining stocks with gold. Gold is regarded as the most influential precious metal, and most miners are known to follow its price trends. In this seven-part serieVan s, we'll look at Goldcorp (GG), New Gold (NGD), Newmont Mining (NEM), and Barrick Gold (ABX).
The prices of mining-based funds are also closely related to those of precious metals. The PowerShares DB Gold Fund (DGL) and the VanEck Merk Gold Trust (OUNZ) rose 2.2% over the five trading days leading up to December 27, 2017. These also are known to have a high correlation with gold.
Article continues below advertisement
Reading the trends
On a YTD (year-to-date) basis as of December 27, Goldcorp saw the highest correlation with gold, while New Gold had the lowest YTD (year-to-date) correlation as of the same date. Notably, the YTD correlation seems to be moderately lower than in previous years.
Among the four miners that we're discussing in this part of our series, Goldcorp has seen a downward trend in its correlation with gold, while the other three miners have seen mixed trends in their respective correlations with gold.
The correlation of NGD dropped from a three-year correlation of 0.54 to a one-year correlation of 0.26. Remember, a correlation of 0.26 suggests that about 26% of the time, New Gold has moved in the same direction as gold over the past one-year period.
In addition to this discussion, a brief analysis of the movement of mining shares relative to gold will be essential as it will provide insight into the future price movement of these four mining stocks. Continue to the next part of this series (below) for more analysis.