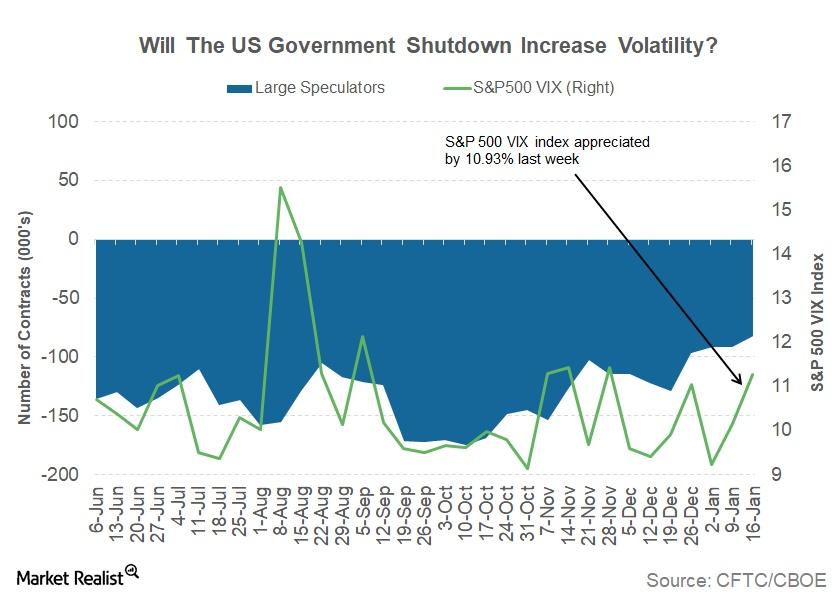 Could the US Government Shutdown Impact Market Volatility?
Volatility inched higher last week
During the week ended January 19, 2018, global markets trended higher despite the possibility of a US government shutdown. However, volatility ticked higher as uncertainty loomed over a potential government shutdown.
Although equity markets were mostly unaffected, the US dollar and bond markets trended lower for the week ended January 19. Analyzing the previous US government shutdowns, we can see that a government shutdown doesn't have a major impact on the equity markets or economic growth.
For the week ahead, the uncertainty from the government shutdown, central bank meetings in Europe and Japan, and political and economic commentary from Davos will be in focus.
Article continues below advertisement
Article continues below advertisement
US market performance
US markets remained shielded from the US government shutdown. Economic data reported last week indicated minor improvement in industrial production and building permits, as well as a nominal decline in housing starts. This data had limited impact on indexes.
The Dow Jones Industrial Average (DOD) rose ~1.0% for the week ended January 19, and the S&P 500 (SPY) returned 0.86%. Technology stocks continued their impressive run, pushing the NASDAQ (QQQ) Index higher by ~1.0%.
VIX and speculator positioning
The volatility index, VIX (VXX), shot up on the back of US government shutdown. The S&P VIX 500 (VIXY) closed at 11.27, appreciating by ~10.9% for the week ended January 19.
The latest Commitment of Traders (or COT) report was released by the Commodity Futures Trading Commission (or CFTC) on January 19, 2018. According to the COT report, large speculators have reduced their overall short positions to 82,244 contracts from 91,780 short contracts in the previous week. Further escalation of the US debt ceiling crisis could push volatility higher in the week ahead.
In the remaining parts of this series, we'll review this weekly performance and discuss the outlook for different asset classes for the week ahead.