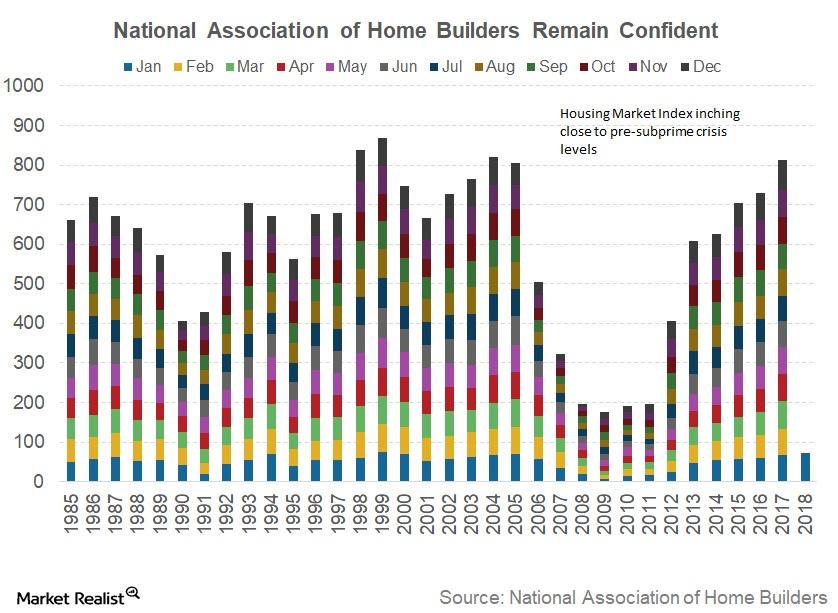 How Confident Are Homebuilders at the Beginning of 2018?
NAHB housing market index
The NAHB (National Association of Home Builders) is an association that consists of 700 state and local associations of homebuilders (REM), real estate sales and marketing professionals, and remodelers. For the last 30 years, the NAHB has been conducting a monthly survey of its members. The NAHB constructs the HMI (housing market index) for the US housing market. The survey asks its members to rate the single-family housing market's (ITB) conditions as "good," "fair," or "poor." The survey reports the current conditions and expected conditions for the next six months. The report also publishes the traffic of prospective buyers as "high to very high," "average," or "low to very low" for new homes.
Article continues below advertisement
NAHB HMI reading for January
The HMI is a diffusion index that can range between zero and 100. The NAHB survey has three different sets of diffusion indexes. The final HMI reading is a weighted average of the three surveys. For a diffusion index, any reading above 50 is considered to be a positive reading.
For January, the HMI reading was reported at 72—a decrease of two points from an 18-year high reported in December. The three components have registered minor losses in January. The current sales conditions and sales expectations for the next six months dropped by one point each. The buyer traffic index dropped by four points in January.
Outlook from the NAHB
NAHB Chairman Randy Noel said, "home builders are confident that the changes to the tax code will promote the small business sector and boost broader economic growth." The chief economist of the NAHB, Robert Diaz, shared his opinion. He thinks that the strengthening economy increases the formation of owner-occupied housing and decreases the supply of existing home, which could lead to more gains in the housing (PKB) market in the year ahead.
Comments from key members of the NAHB indicated that homebuilders are optimistic about the future demand and projected increased activity in the housing (XHB) sector. In this series, we'll discuss the economic data from the housing (PAVE) market. We'll see if the housing market is set for more gains.