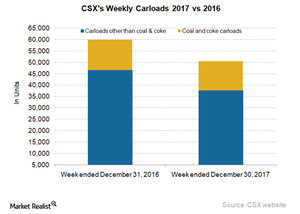 Commodities that Pulled Down CSX's Carload Traffic in Week 52
CSX's carload traffic in the 52nd week of 2017
Jacksonville-based rail giant CSX (CSX) reported double-digit carload traffic loss in the 52nd week of 2017. The company's carload traffic slumped 15.7% that week. CSX hauled nearly 51,000 units, compared with ~60,000 carloads in the final week of 2016.
Notably, in 2017, CSX lost some carload traffic to rival Norfolk Southern (NSC) on account of CSX's shift toward the Precision Schedule railroading technique under the leadership of E. Hunter Harrison.
For CSX, carloads excluding coal and coke accounted for 75% of total carloads. The rest came from coal and coke carloads. Carloads other than coal and coke fell 19.2% for the week, while coal and coke carloads contracted 3.3%.
Compared with the 9.8% loss seen by US railroads (IYJ) overall, CSX's traffic loss was much higher during the 52nd week of 2017.
Article continues below advertisement
Ascending and descending commodity groups
Not a single commodity group posted a rise in volues in the 52nd week of 2017. The following commodity groups reported major volume losses for CSX in the final week of 2017.
CSX's intermodal traffic in the 52nd week of 2017
CSX's intermodal traffic fell 5.7% YoY (year-over-year) for the week. The company hauled ~40,400 containers and trailers, compared with ~42,800 units during the same week of the previous year.
Container volumes contracted 5.2%, and trailer traffic fell 15%. In contrast with the growth reported by US railroads overall, CSX's carload traffic contracted 1.4% in 2017, though its intermodal traffic expanded 2.2%.
We'll consider Kansas City Southern's (KSU) freight traffic in the next part.