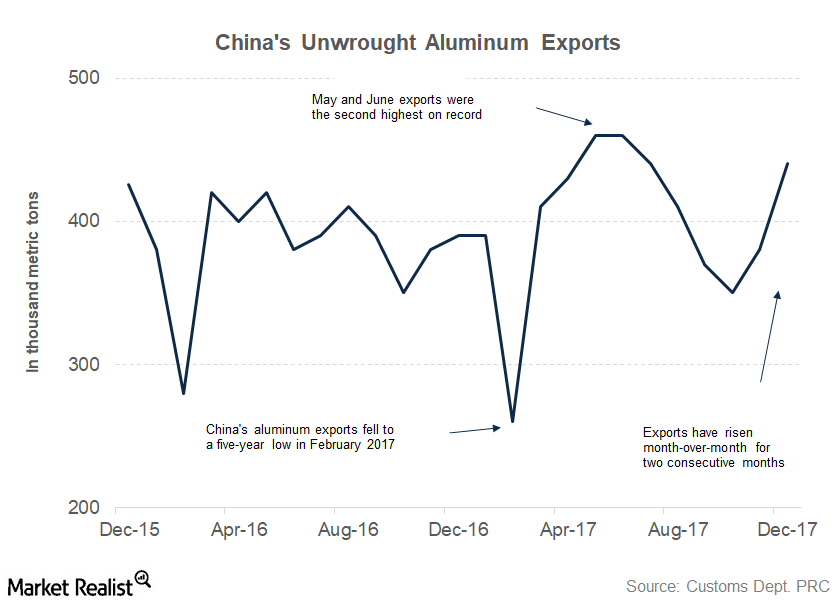 China's Supply-Side Reforms Could Impact Aluminum in 2018
China's supply-side reforms
Alcoa (AA) expects global aluminum demand to exceed supply in 2018 on China's supply-side reforms. Notably, China has been curtailing its polluting industrial capacity in a bid to control its rising smog levels during the winter months. During the 4Q17 earnings call, Alcoa noted that "China is signaling that it is serious about supply reform in the aluminum industry."
Article continues below advertisement
Production
However, we haven't seen a major impact from the capacity cuts in China's aluminum production (S32) (ACH). Last year, China's aluminum production rose 1.6% year-over-year to a record high. Although the growth rates have slowed down compared to previous years, it was still enough to fuel a 4.5% yearly increase in China's aluminum exports.
While China has been curtailing plants in some cities under the mandated production cuts and we've seen reports of action where the mandated cuts haven't been adhered to, fresh capacity seems to be coming online in other cities. According to a Reuters report citing unnamed analysts, "China's December aluminum production rose as compared to November due to the commissioning of "new smelting capacity in Inner Mongolia by Aluminum Corp of China (Chinalco) and in the southern province of Guangxi, regions that were not required to cut capacity under the pollution crackdown."
Aluminum exports
Looking forward to 2018, we could see another increase in China's aluminum exports (AWC) (CENX). There are signs of slight moderation in China's aluminum demand growth compared to 2017. China's aluminum inventories are at a record high.
China's capacity cuts are aimed at cutting the country's pollution levels. The strategy might not be totally in sync with what the global aluminum industry wants—a sustainable cut in China's aluminum capacity.
Visit Market Realist's Metals and Mining page for ongoing updates on this industry.