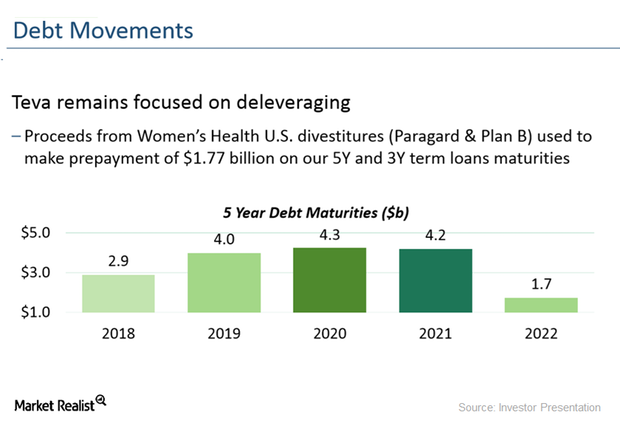 Can Teva's Debt Repayment Plan Deleverage Its Balance Sheet?
Teva's debt obligations
Teva Pharmaceutical Industries (TEVA) has a debt of $34 billion on its balance sheet. The company is focused on reducing its net debt obligations to optimum levels over the coming years. It's targeting its net debt-to-EBITDA (earnings before interest, tax, depreciation, and amortization) of 4.0x by the end of 2020. It will also focus on bringing down the ratio to 2.0x over the long term. It plans to use all its operating as well as divestment cash flows to reduce its debt significantly over the next four years.
Investors seeking diversified exposure to TEVA stock can invest in the iShares MSCI EAFE ESG Optimized (ESGD), which holds 0.12% of its total holdings in TEVA stock.
Article continues below advertisement
Debt and payment sources
Teva Pharmaceutical Industries has been focused on paying down its bank debt amounting to $4 billion, subject to covenants. The above diagram shows a brief summary of the company's debt maturities over the next five years.
Teva is focused on certain non-profitable and non-core asset divestments over the last quarter. In 3Q17, it divested two of its US women's health businesses. The payment from divestment was used to pay off $1.8 billion of its long-term loan maturities of five years and three years. The company continues to focus on cutting costs through divestments. It reported operating cash flows of $2.3 billion during its recent 3Q17 earnings results announcement.
Its peers Pfizer (PFE), Mylan (MYL), and Gilead Sciences (GILD) recently reported their operating cash flows of $9.7 billion, $1.6 billion, and $9.1 billion, respectively.