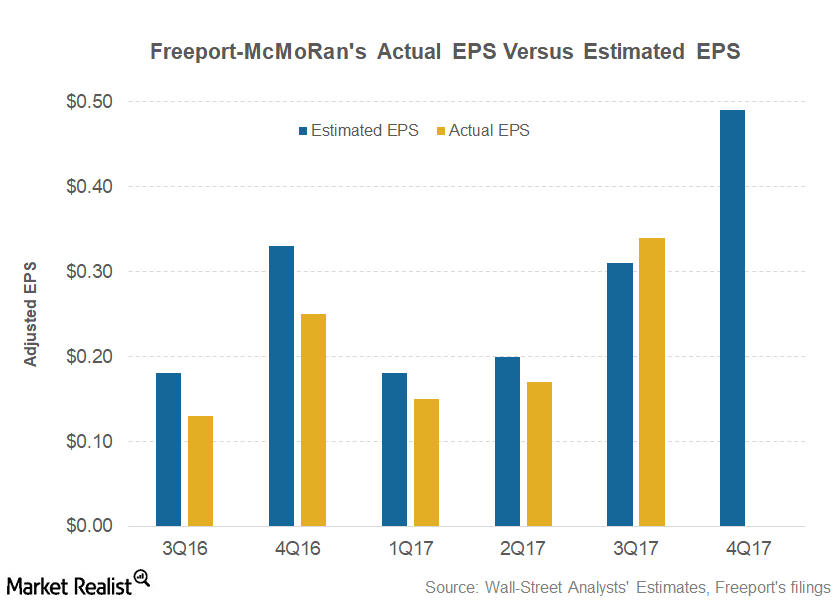 Can Freeport's 4Q17 Earnings Keep Investor Optimism Alive?
Freeport's 4Q17 earnings
Freeport-McMoRan (FCX), the leading US-based copper miner (XME), is scheduled to release its 4Q17 earnings on January 25. The stock has gained 5.3% so far in 2018 based on January 19 closing prices. In 2017, Freeport saw upwards price action of 43.7%. However, most of Freeport's 2017 gains were in December. Barring December, Freeport had a somber 2017, and the stock underperformed other copper miners including Glencore (GLEN-L) and Southern Copper (SCCO) for the most part of the year.
Article continues below advertisement
4Q17 earnings season
We are now into the 4Q17 earnings season. Rio Tinto (RIO) and BHP Billiton (BHP) have already released their quarterly production report. Glencore is expected to release its 4Q17 production report on February 1, which will be followed by its preliminary annual results on February 21. Teck Resources' (TECK) 4Q17 earnings are expected on February 14. You can read Teck Resources' 2018 Outlook: Can the Uptrend Continue? to see what could drive Teck Resources this year.
Series overview
Movement in underlying commodity prices tends to impact miners' price movements. However, we could see earnings take center stage, especially around the release dates. In this series, we'll explore what analysts expect from Freeport's 4Q17 earnings. We'll also look at some of the key updates the markets will watch for in the company's 4Q17 earnings call.
Let's begin by analyzing Freeport's 4Q17 earnings estimates in the next article.