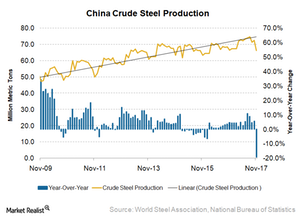 Can China's Steel Production Pick Up after March 2018 on Pent-Up Demand?
China's steel production
Overall, China's steel production in 2017 was strong, which was mostly supported by higher steel prices and firm demand. The mills in China have been taking advantage of higher margins to produce as much as they can.
Article continues below advertisement
China's crackdown and the steel outlook
The situation, however, changed somewhat in November 2017, when output declined 8.6% month-over-month to ~66.2 million tons. This is the lowest output achieved in the last nine months. While the output was lower, it was expected due to the capacity cuts put in place by Chinese authorities.
The daily average output for the country dropped to ~2.2 million tons in November 2017 from ~2.3 million tons in October 2017. Still, the production in the first 11 months of the year was 5.7% higher year-over-year (or YoY).
The production is expected to fall further as cuts are in place until the mid-March 2018. The country is expected to cut capacity by ~50.0 million tons in 2017.
Impact on mining companies
The impact of lower steel production on iron ore is expected to be two-way. In the near-term, the iron ore prices might come under pressure due to low demand. However, in the medium term, when the curbs are lifted, the pent-up demand from Chinese steel mills is expected to benefit these prices.
Due to the switch from low-grade to high-grade material, high-content producers (PICK) of iron ore can take heart due to the prevalent premiums. Vale (VALE), BHP (BHP), and Rio Tinto (RIO) are the major iron ore producers mining high-quality iron ore. Cleveland-Cliffs (CLF), on the other hand, produces sub-62% material, attracting discounts.