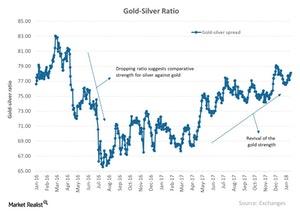 A Brief Analysis of the Gold-Silver Spread in January 2018
Spread analysis
A quick look at the relationship between the two core precious metals, gold and silver, could also be helpful in the analysis of the overall precious metals market. The spread analysis we're considering here prices silver in accordance with gold. The gold-silver ratio or spread is a measurement of the number of silver ounces it takes to buy a single ounce of gold. The spread was trading at 78.1 on January 19, 2018. The spread states that it takes ~78 ounces of silver to buy one ounce of gold.
Other spreads that we can consider for analysis are the gold-platinum spread and the gold-palladium spread. These two spreads were at 1.3 and 1.2, respectively, on January 19.
The chart above shows the performance of the gold-silver spread over the past couple of years. The fall of the spread in mid-2016 indicates silver's relative strength compared to gold. However, the spread has recovered substantially since mid-2017, reflecting a recapturing of strength by gold.
Article continues below advertisement
RSI reading
The RSI (relative strength index) levels of the gold-silver, gold-platinum, and gold-palladium spreads are 70, 13.8, and 44.5, respectively. An RSI level of above 70 indicates a potential fall in price, while an RSI level of below 30 suggests a potential rise in price.
Some mining funds that closely track precious metals are the iShares iShares Gold Trust ETF IAU), the iShares the Silver Trust ETF (SLV), the ETFS Physical Platinum Shares ETF (PPLT), and the ETFS Physical Palladium Shares ETF (PALL). These funds have risen 2.2%, 0.38%, 9.1%, and 3.8%, respectively, in the past month.
Mining shares also tend to be good indicators of the overall health of precious metals because much of their directional movements come from precious metals. Most mining companies have risen during the past month. Companies such as Hecla Mining (HL), Kinross Gold (KGC), Coeur Mining (CDE), and AngloGold Ashanti (AU) have risen 4.7%, 1.7%, 13.5%, and 12.1%, respectively.