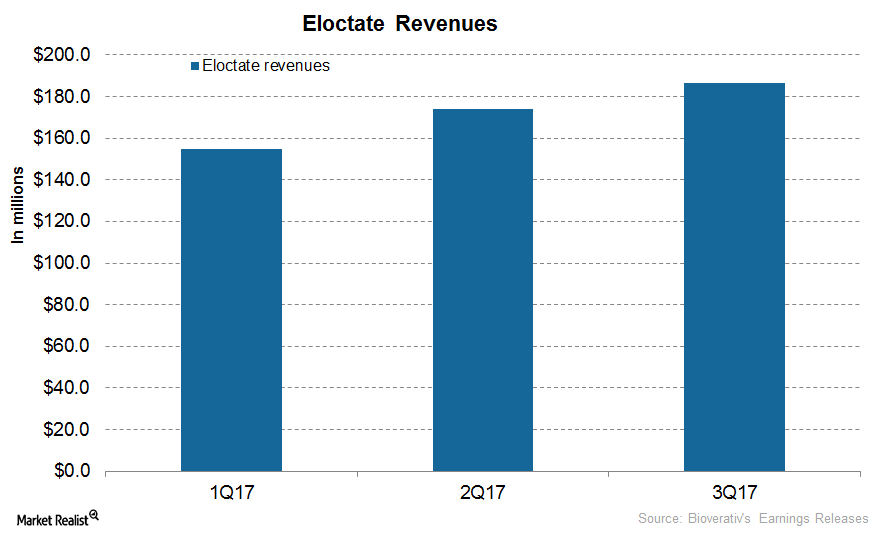 How Is Bioverativ's Eloctate Positioned Now?
Eloctate revenue trends
In 3Q17, Bioverativ's (BIVV) Eloctate generated revenue of $186.3 million, reflecting a 41% rise on a year-over-year (or YoY) basis. Eloctate reported revenue of $516.5 million in the first nine months of 2017 (which ended in September 2017) compared to $364.3 million in the first nine months of 2016.
Eloctate contributed ~67.8% of Bioverativ's net product revenue in 3Q17 and ~66.2% in the first nine months of 2017.
Article continues below advertisement
Phase 3 A-LONG and ASPIRE trials
In December 2017, Bioverativ and Swedish Orphan Biovitrum presented the results of their post-hoc longitudinal analysis of the Phase 3 A-LONG trial and the ASPIRE long-term extension trial. ASPIRE is a multiyear extension study for individuals who have completed the pivotal Phase 3 A-LONG trial.
In clinical trials, Eloctate demonstrated the potential to deliver improved bleed protection through episodic treatment and to reduce the treatment burden related to more frequent dosing intervals.
In the clinical trial, 43 candidates aged 12 years and above received Eloctate at a weekly dosing interval for a median trial duration of 3.1 years. For candidates in the ever-on-weekly dosing group who received pre-study episodic therapy, the transition to weekly prophylaxis dosing led to a change in the median annualized bleeding rate (or ABR) to -23.7. Among the candidates consistently receiving a weekly dosing regimen over the trial period, candidates on a pre-study episodic regimen showed a median pre-study ABR of 29 compared to an on-study ABR of 1.7.
Eloctate is recombinant antihemophilic factor Fc-fusion protein used for the treatment of individuals with hemophilia A. The superior results of the clinical trials are expected to strengthen Eloctate's commercialization capabilities.
In the marketplace, Eloctate competes with Pfizer's (PFE) Xyntha; Shire's (SHPG) Advate, Obizur, and Adynovate; Bayer's (BAYZF) Kogenate FS; and Novo Nordisk's (NVO) NovoSeven and NovoEight. The growth in Eloctate's sales could boost the share prices of the Vanguard Small-Cap Growth ETF (VBK). Bioverativ makes up ~0.51% of VBK's total portfolio holdings.