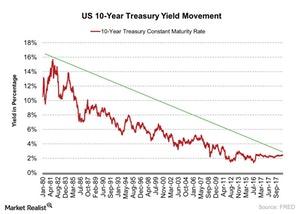 Why Bill Miller Thinks Bond Bull Market May Be Coming to an End
Bill Miller's views on market movement
Legendary value investor Bill Miller shared his views on the bond market (BND), equity market (SPY) (SPX-INDEX), and bitcoin in a letter on January 23, 2018. Bill Miller is the chair of Miller Value Partners, which he founded in 2016. Before that, he was the chair and chief investment officer at Legg Mason Capital Management for 35 years.
Article continues below advertisement
Article continues below advertisement
Bill Miller on the bond market
Bill Miller believes the bond bull market will end soon. The bond market has been strong for the past 35 years. He said, "I believe that if rates rise in 2018, taking the 10-year treasury above 3 percent, that will propel stocks significantly higher, as money exits bond funds for only the second year in the past ten. Bonds, in my opinion, have entered a bear market, but one that is likely to be benign for the next year or so."
The Fed began its gradual rate hike process in December 2015. The improving economic conditions might encourage the Fed to continue its gradual rate hikes in 2018. Rate hikes could push up the bond yield. As the bond yield and bond prices have an inverse relationship, we might see some pressure on bond prices (TLT) (SHY) during rising bond yield conditions.
On the other hand, the expectation for an increase in the government debt level could be another major concern for the bond market. All these factors are indicating that the bond bull market could end soon.
In the next part of this series, we'll analyze Bill Miller's view on the equity market.