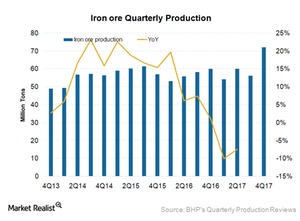 BHP Billiton Outlook: Iron Ore Volumes Flat
Iron ore volumes
Iron ore (PICK) volumes are key to BHP Billiton's (BHP) revenues and earnings as iron ore is the single largest commodity produced by the company. With oversupply and weaker demand, large iron ore companies strategize to increase their volumes to reduce the pressure on revenue, cash flow, and, ultimately, the bottom line. In this part of our series, we'll look at BHP's outlook for iron ore volumes.
Article continues below advertisement
Flat iron ore production growth
BHP Billiton's iron ore production for fiscal 1H18, which ended on December 31, 2017, was 117.0 million tons. Production was flat year-over-year (or YoY). The following factors affected iron ore volumes for BHP in 1H18.
The record production at BHP's main iron ore asset, WAIO (Western Australia Iron Ore), was offset by lower opening inventories due to a fire at the Mount Whaleback screening plant in June 2017.
Iron ore volumes were 11% higher in the December 2017 quarter than the September 2017 quarter. The December quarter achieved record annualized volumes of 284 million tons (on a 100% basis).
Increased plant availability and improved rail performance helped volumes during the quarter.
As expected, iron ore production in Samarco, Brazil, remained suspended following the dam collapse in November 2015.
Guidance
The company maintained its guidance between 238.0 million and 243.0 million tons on a BHP share basis and 275 million–280 million tons on a 100% basis for fiscal 2018. It expects volumes to be weighed toward the second-half of the fiscal year. Debottlenecking activities at the port, which were completed in the December 2017 quarter, are expected to support higher volumes in the second half of the financial year.
Rio Tinto (RIO) produced 87.9 million tons of iron ore in the December 2017 quarter on a 100% basis and 72.9 million tons as its share. In 2017, the company produced 329.8 million tons on a 100% basis and 271.3 million tons based on its share. It expects its 2018 shipments to be between 330 million and 340 million tons on a 100% basis.
Vale (VALE) is expected to release its 4Q17 and 2017 results on February 28, while Cliffs Natural Resources (CLF) plans to release its 4Q17 on January 25.