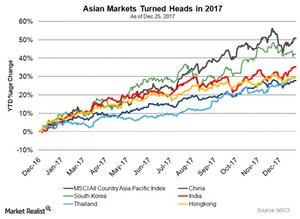 Why Asian Markets Grabbed Investors' Attention in 2017
Asia stock market rally in 2017
Stock markets around the world rallied in 2017. Asian equities, in particular, grabbed investors' attention in 2017, as they have been outperforming other markets.
The MSCI All Country-Asia Pacific Index saw whopping growth of 27.8%, outperforming the MSCI World Index, which rose 19% YTD in 2017. The index covers large-cap and mid-cap companies across five developed markets and nine emerging markets in the Asia-Pacific region.
Among the countries in the Asia-Pacific region, emerging market economies showed staggering growth this year. Emerging market economies made a comeback this year led by rising GDP growth, the weak dollar, and an increase in commodity prices.
According to the International Monetary Fund's October forecast, higher commodity prices and strong fundamentals are expected to drive GDP growth of 6.5% both in 2017 and 2018 for emerging and developing Asian economies.
Article continues below advertisement
Winners in the Asian market in 2017
China is leading the charts among Asian economies with a gain of 50.8%, followed by South Korea with an increase of 42.0%, India with a gain of 35.2%, Thailand with a gain of 30.1%, and Hong Kong (EWH) with a gain of 30.0% YTD.
China contributed to global economic expansion in 2017. The 19th National Congress indicated that the Chinese government would continue to focus on robust growth rates. China's transition from an export-driven, low-cost manufacturing country to a consumption-led economy is proceeding at a gradual pace. In the third quarter of 2017, China's (FXI) (MCHI) economy grew 1.7%. The table below shows the real GDP forecast by the IMF for 2017 and 2018 for countries in the Asia-Pacific region.
South Korea (EWY) ended the year on a strong note with robust exports led by global demand for South Korean memory chips. Indian markets are also benefitting from Prime Minister Narendra Modi's tough economic reforms like demonetization and GST (or goods and service tax) harmonization across the nation.
CNBC reported that Andrew Swan, BlackRock's head of Asian and global emerging markets equities, said at the 2018 Asia Investment Outlook, "The high returns seen in Asian equities have been led by a better-than-expected and synchronized global economic expansion, which helped companies register better earnings growth — a trend that looks set to continue into 2018." BlackRock holds an "overweight" position for China (GXC), India (INDA), and Indonesia (EIDO).
Next, we'll see what 2018 has in store for investors.