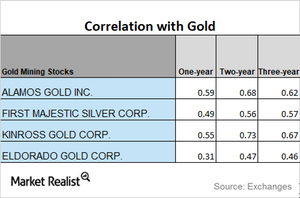 Analyzing the Correlation of Gold to Miners in January 2018
Correlation to gold
In this part of the series, we'll look at the correlation movement of miners Alamos Gold (AGI), First Majestic Silver (AG), Kinross Gold (KGC), and Eldorado Gold (EGO) to gold.
Gold- and silver-based funds such as the Physical Swiss Gold Shares ETF (SGOL) and the Physical Silver Shares ETF (SIVR) tend to correlate strongly to their respective precious metals. These two funds increased 1.3% and 1.6%, respectively, on January 12, 2018. These funds posted price increases of 2.7% and 1.8%, respectively, during the past month.
Article continues below advertisement
Reading the trends
Among the four miners under discussion, Alamos Gold has seen the highest correlation to gold during the past one-year period, while Eldorado Gold has the lowest correlation. In the last year, almost all miners had a comparatively low correlation to gold.
First Majestic Silver saw correlation drop during the past three years. On a three-year basis, its correlation with gold was 0.57. On a one-year basis, its correlation had declined to 0.49. A correlation reading of 0.49 suggests that during the last one-year period, First Majestic Silver moved in the same direction as gold 49.0% of the time.