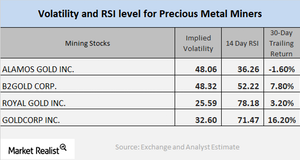 Analyzing the Technicals of Mining Stocks in January 2018
Mining stock analysis
Most mining stocks have risen during the past month due to the revival in precious metals prices. The mining companies we'll look at in this article are all more sensitive to movements in precious metals than they are to movements in the equity market in general.
For our analysis, we've selected Alamos Gold (AGI), B2Gold (BTG), Royal Gold (RGLD), and Goldcorp (GG). Among these four selected miners, only Alamos has shown a fall in its price over the past 30 trading days, while B2Gold, Royal Gold, and Goldcorp have risen 7.8%, 3.2%, and 16.2%, respectively.
Famous gold- and silver-following funds the Physical Swiss Gold Shares ETF (SGOL) and Physical Silver Shares ETF (SIVR) have also risen 2.2% and 0.42%, respectively, on a trailing-30-day basis.
Article continues below advertisement
Volatility analysis
Now let's take a look at the volatility figures of our selected miners. Volatility here refers to call-implied volatility, which measures the price changes in a stock with respect to the changes in the price of its call option.
Volatility in miners is often much higher than volatility in precious metals. AGI, BTG, RGLD, and GG have call-implied volatilities of 48.1%, 48.3%, 25.6%, and 32.6%, respectively.
RSI readings
The RSI (relative strength index), on the other hand, measures whether a stock is comparatively overvalued or undervalued. When a stock's RSI level is above 70, it shows that the asset could be in overbought territory, so its price might deteriorate. When a stock's RSI indicator is below 30, it indicates that the stock could be oversold and its price could rise. AGI, BTG, RGLD, and GG have RSI levels of 32.3, 52.2, 78.2, and 71.5, respectively.