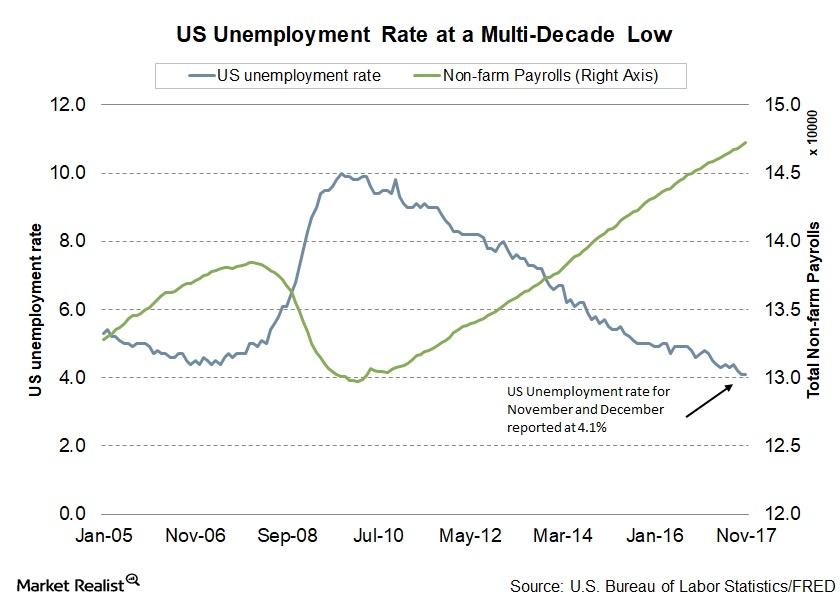 Will US Unemployment Rate Fall below 4% in 2017?
By Ricky Cove

Dec. 22 2017, Updated 3:10 p.m. ET
A look at the unemployment rate in 2017
A lower unemployment rate is one of the key objectives of the Fed. In 2017, the unemployment rate fell, reaching 4.1% in its latest November reading. The unemployment rate was 10% in 2009. The Fed has begun its monetary tightening, gaining confidence from the strong employment figures. Every FOMC (Federal Open Market Committee) statement pointed to lower unemployment as one of the reasons to tighten the policy. The highlight of 2017 was the limited impact from the devastating hurricanes in August in the southern part of the country and the subsequent bounce back in hiring after that.
Article continues below advertisement
Relationship between unemployment rate and the economy
A lower level of unemployment usually leads to higher economic growth, higher wages, and higher consumer spending. The only economic relationship that doesn't seem to be pleasing the Fed is the relationship between unemployment and inflation. According to the Phillips curve, lower levels of unemployment should lead to higher levels of inflation (TIP). That theory hasn't held true in 2017 and has been confusing economists since there seems to be no proper explanation for lagging inflation (VTIP).
The year ahead for unemployment
With the passing of the tax reform bill on December 20, 2017, and the reduction in the corporate (XLI) tax rate, there could be increased hiring in 2018. The lowest unemployment rate in the last five decades was 3.8% during the technology (XLK) boom of 1999–2000. Could that record be broken in 2018–2019? We'll have to wait and see. Lower unemployment rates could encourage the Fed to raise interest rates (BND) as projected next year. The only risk to this outlook is inflation (SCHP) remaining low. If that's the case, some FOMC members could be against the interest rate hikes.
In the next part of this series, we'll take a look at inflation trends in 2017 and explain why inflation remained lower despite the fall in unemployment.