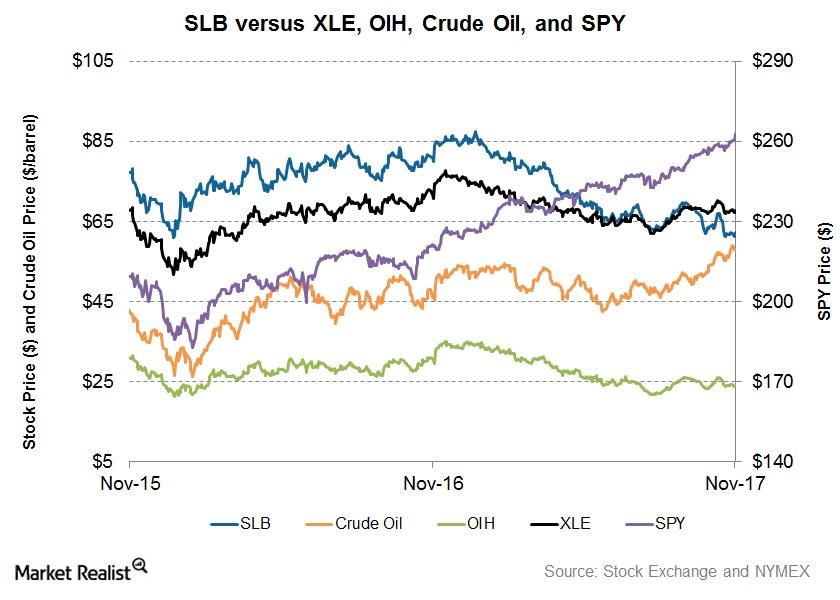 What Are Schlumberger's SPM Project Plans?
Schlumberger's returns
Between November 29, 2015, and November 29, 2017, Schlumberger's (SLB) stock price was at its highest in January 2017. Since then, SLB's stock price has fallen nearly 29%. Since November 30, 2016, SLB has fallen ~26%. We have already discussed Schlumberger's recent drivers in the series Schlumberger's Outlook and Fundamentals in 4Q17.
Article continues below advertisement
OFS stocks versus market
From November 30, 2016, to November 29, 2017, the VanEck Vectors Oil Services ETF (OIH) dropped 26%. OIH is an ETF tracking an index of 25 oilfield equipment & services (or OFS) companies. The Dow Jones Industrial Average (DJIA-INDEX) has risen 25% in the past one year. In the past one year, the SPDR S&P 500 ETF (SPY) has gone up 19% until November 28, 2017. Since November 30, 2016, the Energy Select Sector SPDR ETF (XLE) has dropped 9%.
Schlumberger and crude oil price
So, in the past one year, SLB has performed nearly in line with the industry ETF and has hugely underperformed the broader market index. The crude oil price has strengthened in 2017. From November 30, 2016, until November 29, 2017, WTI has risen ~16%.
Higher crude oil prices can lead to higher energy production, which can benefit OFS companies like Schlumberger and ION Geophysical (IO). Read more on this in Market Realist's Top 5 OFS Companies Based on 2017 Returns.
Article continues below advertisement
Schlumberger is pushing its SPM projects
Schlumberger's first Schlumberger Production Management (or SPM) project started in 2014. SPM is a business model for field production projects. Currently, SLB manages 15 SPM projects in seven countries.
SLB is currently drilling and completing the 11th well in the Powder River Basin (located in southeast Montana and northeast Wyoming) in its SM Energy project. On October 19, 2017, SLB and its partner Torxen acquired Palliser Block located in Alberta, Canada, for ~$1.0 billion. Through this project, SLB is expanding its SPM modules in North America after implementing these in Malaysia, Romania, and Ecuador. In the 3Q17 earnings call, SLB's management deliberated on the developments. According to SLB's chair and CEO, Paal Kibsgaard, "SPM will not alter the phase of Schlumberger it will simply complement our core business where the objective is to grow SPM from the size of a product line today to the size of a group over the next five to seven years. Granted SPM has a different risk profile compared to our core business, but different does not mean higher."
Series highlights
In this series, we will discuss SLB's relative valuation multiples and other market indicators. We will start with Schlumberger's historical valuation multiples in the next part.