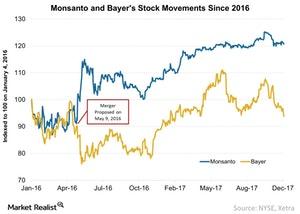 The Bayer-Monsanto Merger Deal: An Update
Merger overview
More than a year ago, on September 14, 2016, Bayer signed an agreement with Monsanto (MON) to acquire Monsanto for $66 billion, or $128 per share. The offer represented a 44% premium over Monsanto's stock price as of May 9, 2016, when the merger was first proposed to Monsanto.
The Bayer-Monsanto merger is expected to create at least $1.5 billion in synergies annually three years and beyond after it closes. Bayer's shareholders are expected to benefit from growth in EPS (earnings per share) as a result of accretion from the merger.
Article continues below advertisement
Stock performance
Almost a year after the announced merger, Monsanto stock continues to trade below the acquisition price of $128. As of December 6, 2017, Monsanto was trading at a discount of 7.8% at $118 per share. Since the merger announcement, the stock reached a peak of $122.40 per share.
On the other hand, Bayer bounced back from the low of 84 euros after the merger announcement and closed at 140 euros on December 6, 2017.
The hesitant market
Given that Monsanto's acquisition price is $128, the stock is trading at a discount. That shows that the market is hesitant. There are concerns about whether the companies will complete the merger, which is pending approval from anti-trust authorities in the United States (XLB) (NANR), Europe, and Brazil.
There are very few companies that operate in the biotech seeds and pesticide markets. They include Monsanto, Bayer, Syngenta (SYT), BASF (BAS), Dow Chemical, and DuPont (now DowDuPont) (DWDP). Together, these companies are popularly known as the Big Six. According to Food Secure Canada, these six companies control 63% of global seed sales and 75% of agricultural chemicals, which include pesticide sales.
Recent mergers concentrating the industry
On September 1, 2017, Dow Chemical and DuPont, now DowDuPont, announced the completion of their merger, which was valued at $130 billion.
Last year, ChemChina announced its acquisition deal with Syngenta valued at $43 billion and expected to be completed in the first quarter of 2018.
To learn more about Monsanto's business, read An In-Depth Review of Monsanto Company's 2016.