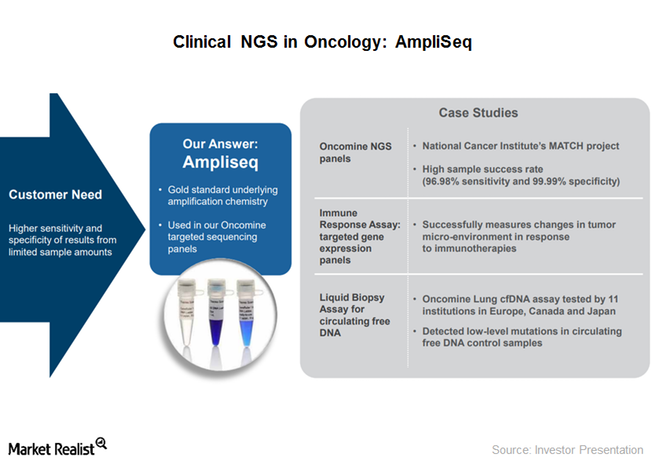 TMO's Oncomine Dx Target Test Gets CMS Coverage
By Sarah Collins

Dec. 29 2017, Updated 9:01 a.m. ET
Overview
On December 7, 2017, Thermo Fisher Scientific (TMO) announced that its Oncomine Dx Target Test had been proposed for coverage by the CMS (Centers for Medicare & Medicaid Services). The test coverage is part of a national coverage determination (or NCD) for NGS (next-generation sequencing) IVD (in vitro diagnostic) tests.
When the proposed coverage is implemented, reimbursable testing using Thermo Fisher Scientific's multi-biomarker NSCLC (non-small cell lung cancer) diagnostic would be provided by the NCD to the medical beneficiaries.
Article continues below advertisement
TMO's Oncomine Dx Target Test
Thermo Fisher Scientific developed the Oncomine Dx Target Test in partnership with Novartis (NVS) and Pfizer (PFE). It launched the test in in June 2017. For details of the launch, please read TMO's Oncomine Target Test Launch Will Boost This Business.
The first FDA-approved NGS-based companion diagnostic test, TMO's Oncomine Dx Target Test, is a major growth driver for the company. One of the three US laboratories that plan to offer the test as a service to medical practitioners, Cancer Genetics (CGIX) announced that it received approval from the New York State Department of Health for TMO's Oncomine Dx Target Test on December 19, 2017.
Who is covered?
Medicare beneficiaries with recurrent, metastatic or advanced stage IV cancer—and who have not been tested with the same NGS technology—are eligible for coverage under the draft NCD. It is expected that the final policy will be issued during 1Q18 following preliminary NCD public comment.
Investors seeking diversified exposure to Thermo Fisher Scientific can invest in the iShares Russell 1000 Growth ETF (IWF). TMO comprises ~0.27% of IWF's portfolio.