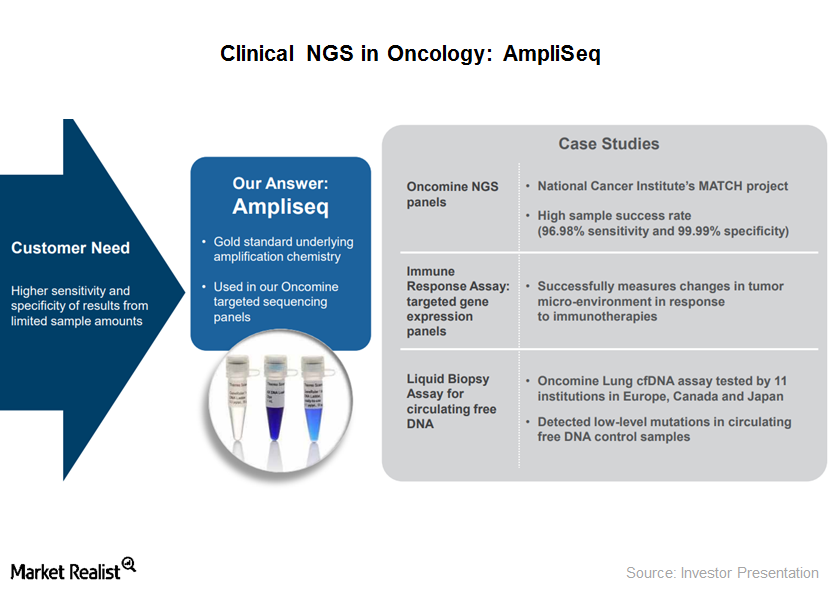 TMO's Oncomine Target Test Launch Will Boost This Business
Oncomine Dx Target Test
On June 27, 2017, Thermo Fisher Scientific announced the launch of its Oncomine Dx Target Test. Starting in July 2017, the test will be offered as a service to oncologists by three laboratories in the United States, namely LabCorp (LH), NeoGenomics (NEO), and Cancer Genetics (CGIX).
The test was approved by the FDA on June 22, 2017. It was developed by Thermo Fisher Scientific in partnership with Pfizer (PFE) and Novartis (NVS).
TMO stock rose ~0.27% on June 27, 2017. The Vanguard Growth ETF (VUG) fell ~1.1% on the same day. TMO accounts for ~0.67% of VUG's total holdings.
Article continues below advertisement
What is the Oncomine Dx Target Test?
The Oncomine Dx Target Test is claimed to be the first NGS-based (next-generation sequencing) test that screens tumor samples simultaneously for biomarkers connected with three FDA-approved NSCLC (non-small cell lung cancer) therapies. The test is based on Thermo Fisher Scientific's Ion AmpliSeq technology, and it can simultaneously evaluate up to 23 genes associated with NSCLC.
The test will run on Thermo Fisher Scientific's Ion PGM Dx System, which has received 510(k) clearance by the FDA for use on FFPE (formalin fixed, paraffin-embedded) tissue samples. The technology enables the availability of test results within a few hours, compared to the current technology, which takes weeks to generate results.
Market potential
According to TMO, lung cancer is the most prevalent of all types of cancer, and it causes the majority of cancer-related deaths. Approximately 45% of all lung cancer cases are NSCLC cases. According to a report by Transparency Market Research, the NSCLC market will be worth $15.1 billion worldwide by 2023, growing at a CAGR (compound annual growth rate) of 12.1%.
In addition to testing for lung cancer, TMO's management plans to advance and expand the test for diverse therapy applications and indications in new drug combinations.