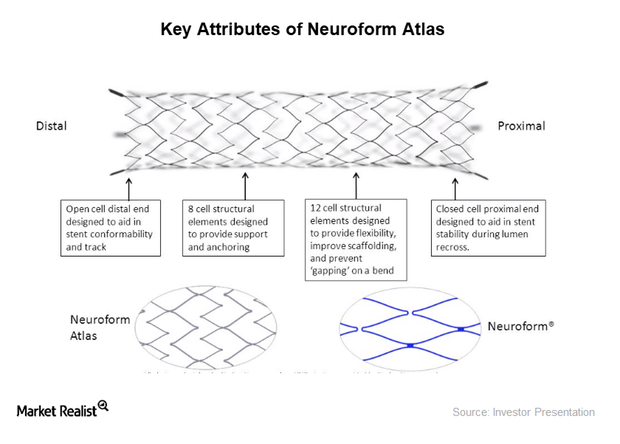 Stryker's FDA Approval Accelerates Neck Aneurysm Treatments
By Sarah Collins

Dec. 5 2017, Updated 10:33 a.m. ET
Overview
On November 9, 2017, Stryker (SYK) announced FDA approval for the Neuroform Atlas Stent System, which is approved for marketing under an HDE (Humanitarian Device Exemption). The company will start US commercialization efforts for the device. It will be used in conjunction with neurovascular embolic coils. The device will be used to treat wide neck, intracranial, and saccular aneurysms.
Article continues below advertisement
What's Stryker's Neuroform Atlas device?
The Neuroform Atlas device is a small nitinol stent used to treat aneurysms. It's used in conjunction with metal coils to pack the brain's weakened blood vessel sacs. A small tube is used to position the Neuroform Atlas device, which is delivered across the aneurysm neck for support. According to Stryker, ~6 million people suffer from an unruptured brain aneurysm in the US. Every year, ~25,000 patients undergo endovascular or surgical treatments. Less than 10% of the treated unruptured aneurysms are wide neck aneurysms.
Management speaks
Mark Paul, the president of Stryker's Neurovascular division, said, "The Neuroform Atlas Stent System is the most recent addition to Stryker's innovative product portfolio, providing a continuum of complete stroke care for patients suffering from cerebrovascular disease. With Neuroform Atlas commercially available in 46 countries, patients around the world are now benefiting from significant advancements in intracranial stents designed specifically for the treatment of wide neck aneurysms. This product is an excellent fit with our mission to make healthcare better."
Medtronic (MDT), Boston Scientific (BSX), and Johnson & Johnson's (JNJ) Codman Neuro are some of the other major medical technology companies that offer aneurysm treatments. These players are expected to register sales growth of around -1.1%, 7.4%, and 10.9%, respectively, in the next fiscal. The SPDR S&P 500 ETF (SPY) has ~0.22% of its total portfolio holdings in Stryker.