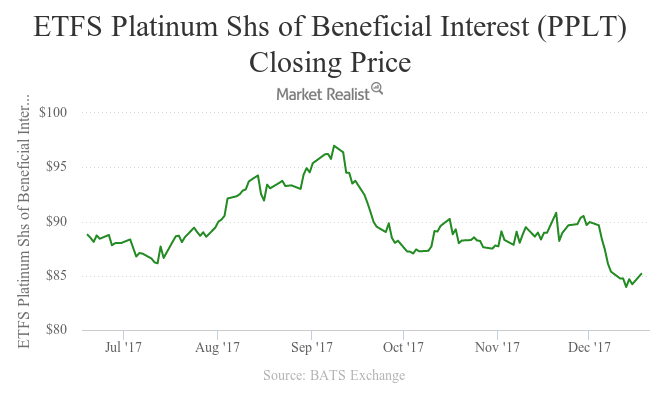 Why Platinum Led the Precious Metals Pack on December 18
Precious metals
All four precious metals except palladium witnessed an up day on December 18, 2017. Palladium often more closely associates with the industrial metals than with the precious metals we're discussing here. If we look at its performance over the past year, we can see that it has scaled spectacularly while its three precious metals counterparts have struggled. Palladium fell 0.33% on December 18, while gold, silver, and platinum rose 0.63%, 0.87%, and 2.7%, respectively.
Gold ended up at $1,263.7 per ounce, while silver closed the day at $16.2 per ounce. Platinum touched the day's high of $915.3 and ended up at $913.2 per ounce.
[marketrealist-chart id=2503138]
The chart above shows the performance of the platinum-based ETFS Physical Platinum Shares (PPLT) over the past six months.
Article continues below advertisement
Hedge funds and speculation
The massive jump in platinum prices on December 18 came after South Africa's Sibanye-Stillwater mentioned that it would cut one-third of the jobs at Lonmin as part of its takeover of the world's number three producer. Platinum markets have been in deficits. Likely production cuts could give a further bounce to the metal.
Hedge funds and speculators have been short on the metal over the past week. The number of bearish bets on platinum has been about five times the last decade's average.
Most mining shares saw an up day on December 18. Among the top gainers on the day were First Majestic Silver (AG), New Gold (NGD), Aurico Gold (AUQ), and Compañía de Minas Buenaventura (BVN). These stocks rose 4.1%, 5.1%, 3.6%, and 3.4%, respectively.