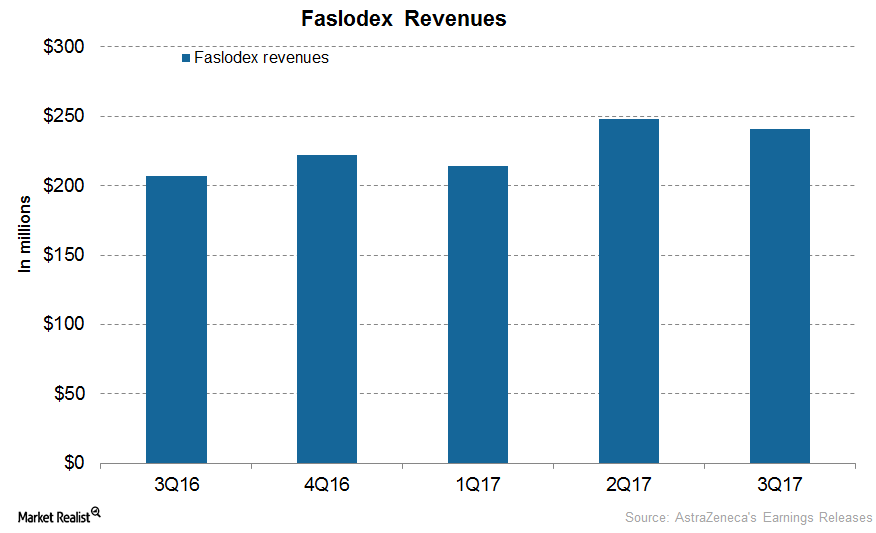 An Overview of AstraZeneca's Oncology Drug Faslodex after 3Q17
By Daniel Collins

Dec. 20 2017, Updated 9:01 a.m. ET
Faslodex's revenue trends
In 3Q17, AstraZeneca's (AZN) Faslodex generated revenues of $241.0 million, which reflected ~16.0% growth on a year-over-year (or YoY) basis and a 3.0% decline on a quarter-over-quarter basis. Faslodex generated 9M17 revenues of $703.0 million, which represents ~16.0% growth on a YoY basis.
Article continues below advertisement
Recent developments
In November 2017, the FDA approved label expansion for AstraZeneca's Faslodex (fulvestrant). This label expansion applied to the inclusion of the drug with abemaciclib for the treatment of hormone receptor-positive (or HR+) human epidermal growth factor receptor 2 negative (or HER2-) metastatic breast cancer in women who showed disease progression after endocrine therapy.
In August 2017, the FDA approved Faslodex 500mg as monotherapy for use in women with HR+ and HER2- metastatic breast cancer who underwent menopause or did not receive any prior endocrine therapy.
In July 2017, the European Commission (or EC) approved Faslodex for the treatment of estrogen-receptor positive, metastatic breast cancer in postmenopausal women who did not undergo prior endocrine therapy.
Phase 3 FALCON trial
The EC approval of Faslodex is based on the results of the Phase 3 FALCON trial. In the Phase 3 FALCON trial, patients on Faslodex demonstrated a median PFS (progression-free survival) of 16.6 months versus 13.8 months for patients on anastrozole, an aromatase inhibitor.
Presently, aromatase inhibitors are the stand-of-care first-line therapy for postmenopausal women with HR+ advanced breast cancer.
In the breast cancer drug market, Faslodex competes with Novartis's (NVS) Kisqali and Afinitor, Pfizer's (PFE) Ibrance, and Eli Lilly's (LLY) Verzenio. In 3Q17, Kisqali, Afinitor, and Ibrance reported revenues of $26.0 million, $389.0 million, and $878.0 million, respectively.
The label expansion of Faslodex is expected to boost the sales growth of the drug. AstraZeneca comprises ~5.3% of the VanEck Vectors Pharmaceutical ETF's (PPH) portfolio holdings.