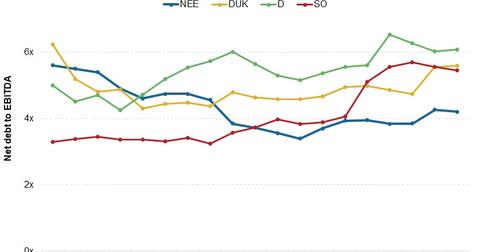 NEE, SO, DUK, or D: Which Utility Has the Most Alarming Leverage?
By Vineet Kulkarni

Updated
Debt profile
Utilities' (XLU) leverages are very important metrics to evaluate, especially now that interest rates are steadily rising. The top three utilities' leverages are largely stable, though Southern Company's (SO) leverage increased sharply after 3Q16 in order to fund its AGL Resources acquisition.
As of September 30, 2017, Southern Company had net debt of $48.3 billion. In comparison, Duke Energy (DUK) and Dominion Energy (D) had net debts of $53 billion and $36.4 billion, respectively, at the end of 3Q17. NextEra Energy (NEE) currently has net debt of $33.6 billion.
Article continues below advertisement
Leverage
We've considered the net debt-to-EBITDA (earnings before interest, tax, depreciation, and amortization) ratios of these utilities to measure their leverages. The net debt-to-EBITDA ratio shows how many years it will take for a company to repay its debt using its EBITDA if its debt and EBITDA are held constant.
Southern Company's net debt-to-EBITDA ratio was 5.5x at the end of 3Q17, while Duke Energy's and NextEra Energy's ratios were 5.6x and 4.2x, respectively. Dominion Energy has a net debt-to-EBITDA ratio of ~6x.
NextEra Energy's relatively flat leverage trend over the last three years indicates that its earnings have risen fairly in proportion to its debt and that its financials are sound.
Debt to equity
NextEra Energy and Southern Company have debt-to-equity ratios of 1.3x and 2.0x, respectively. Duke Energy's debt-to-equity ratio is 1.3x. Dominion Energy has a debt-to-equity ratio of ~2.3x.
A debt-to-equity ratio specifies how much debt is used for financing a company's assets compared to its equity. A higher ratio suggests higher debt-servicing costs. Among the top utility stocks, Dominion's debt-to-equity ratio seems to be on the higher side compared to its peers, which could concern investors.