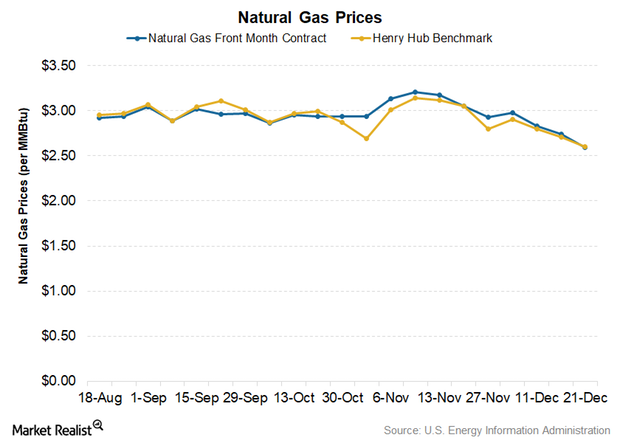 Natural Gas Prices Continue to Fall
In the EIA's STEO report, it predicted that the Henry Hub natural gas benchmark price would average $3.12 per MMBtu in 2018.
Natural gas prices
When the market closed on December 21, 2017, the price of front-month US natural gas futures (expiring in January 2018) was $2.59 per MMBtu (million British thermal units). The spot price for benchmark Henry Hub was $2.60 per MMBtu.
The Henry Hub spot price has fallen by $0.11 from $2.71 per MMBtu recorded on December 18.
Article continues below advertisement
Article continues below advertisement
STEO report
The EIA (U.S. Energy Information Administration) published the latest STEO (Short-Term Energy Outlook) report on December 12, 2017. In the report, the EIA predicted that the Henry Hub natural gas benchmark price would average $3.12 per MMBtu in 2018.
Domestic natural gas consumption and trade overseas are expected to grow in the coming year. The EIA based its projections of a higher average Henry Hub price on these estimations. The projected Henry Hub price is nearly 4.0% higher than the 2017 estimate of $3.01 per MMBtu.
Weather forecast
La Niña might impact US temperatures in the coming months. It's expected to make temperatures in the northern states colder than usual. However, the temperatures in the southern states are expected to be warmer than average. US natural gas prices seem to be on a downward trend despite the winter.
For energy companies like Chesapeake Energy (CHK) and Chevron (CVX), their profitability might be impacted negatively by low natural gas prices.
Impact on coal miners
Coal becomes the favored fuel for utility companies when natural gas prices rise. Similarly, natural gas is favored when its prices are weak.
Westmoreland Coal (WLB) and Cloud Peak Energy (CLD) are two of the coal (KOL) mining companies that might witness a decline in their market share when natural gas prices are relatively weak.
Next, we'll look at the link between crude oil prices and coal.