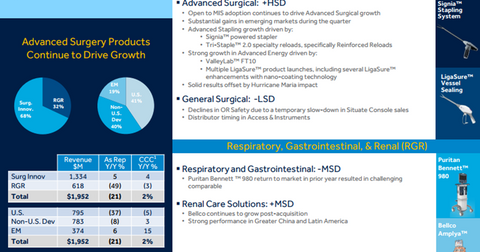 Medtronic Strengthens Its Endoscopy Business through Crospon Acquisition
By Sarah Collins

Updated
Overview
Medtronic (MDT) is set to make another tuck-in acquisition for expanding its Endoscopy business. The company plans to acquire Crospon, an Irish endoscopic diagnostics player. Because official details are not yet published yet, the deal value is not known. However, some publications, including Irish publication Fora, values the deal at around $45 million.
According to a Medtronic spokesperson, "The acquisition expands our portfolio for the management of gastrointestinal diseases. With Crospon, Medtronic will have solutions to esophageal diseases from diagnosis to therapy."
On completion of the acquisition, Crospon would be integrated into Medtronic's Respiratory, Gastrointestinal, and Informatics business, which registered sales of ~$618.0 million in fiscal 2Q18,[1. fiscal 2Q18 ended October 27, 2017] as shown in the chart above.
Other recent strategic M&As (mergers and acquisitions) in the medical technology industry in the United States include Stryker's (SYK) acquisition of Entellus Medical and Edwards Lifesciences's (EW) acquisition of Harpoon Medical.
Such events can trigger stock price movement for the Vanguard Total Stock Market ETF (VTI), which holds ~0.42% of its total portfolio in Medtronic.
Brief details on Crospon
Crospon is a Galway-based gastrointestinal device manufacturer. It was established in 2006 and employs 22 people. The founder of Crospon is John O' Dea, who also founded medical device Caradyne. Caradyne was acquired by Respironics in 2004, which was acquired by Philips (PHG) in 2008.
Crospon declared a loss of more than 535,000 euros in 2016. However, the company secured a funding commitment of 2.0 million euros for two years in 2016. In January 2017, it received 200,000 euros and in June, the company received 500,000 euros.
The company's key products are Endoflip, which features a flip topography module, and Esoflip. Endoflip received FDA approval in May 2017. The device is an imaging probe that employs imaging software that provides a real-time display of esophageal contractility patterns. This product can be used in the treatment of conditions such as GEJ outflow obstruction, achalasia, and other peristalsis disorders during endoscopy.
The Esoflip device is designed for use with Endoflip, which enables the measurement of stricture size during the balloon dilation process without the use of fluoroscopy by the doctors.