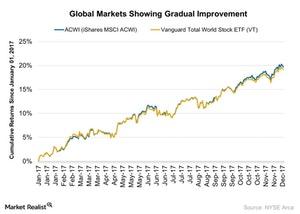 November Services PMIs: What They Say about Developed Markets
Key economic indicators
Below are some important global indicators released last week that we'll be covering in this series:
Indicators are important for global investors as they give us an overall view of the current economic scenario. Short-term market movements also depend on the performances of these indicators.
Article continues below advertisement
Series overview
In this series, we'll analyze the November performances of the services PMIs for major developed economies, including the United States, the United Kingdom, the Eurozone, Germany, France, Spain, and Japan. Services PMIs are important indicators that help us understand the condition of the service industries in various countries. For more information, be sure to read our series on how the manufacturing PMIs of major developed nations performed in November 2017.
Let's start by analyzing the performance of the US ADP National Employment Report for November 2017.