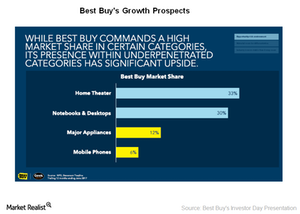 Understanding Best Buy's Growth Strategies
Improvement to the top line
Best Buy (BBY) has managed to deliver higher same-store sales for three consecutive quarters. This growth came amid tough retail market conditions and heightened competition from online retailers like Amazon (AMZN). In March 2017, Best Buy completed its Renew Blue transformation strategy, which began in November 2012. This strategy aimed to address the company's declining same-store sales as well as its falling operating margin. The company is now pursuing its new growth strategy—Best Buy 2020: Building the New Blue.
Article continues below advertisement
Growth plans
Under the new growth strategy, the company aims to expand its presence in categories where it has underpenetrated, like appliances and mobile phones, and to strengthen its presence in high-growth categories. The company believes the Smart Home market, including devices and services, will be a key growth driver. Best Buy has rolled out Smart Home Powered by Vivint home automation and security offering in 450 stores. Through this offering, in-store experts can assist customers in selecting smart home products from Vivint and other partners. Customers can also receive professional installation and monitoring services. Best Buy is also adding 1,500 dedicated smart home employees.
The company is also testing a pilot service called Assured Living. This service helps customers check in on the well-being and safety of their aging parents.
Best Buy considers its services business to be a key differentiator. Best Buy has launched a new Geek Squad offering called Total tech support. This 24/7 online facility provides support for all of the customers' technology irrespective of where or when they bought it. This facility is currently available in all the stores of Best Buy in Canada and at 200 stores across ten US cities.
The company has also expanded its In-Home Advisor program to key US markets and currently has 300 advisors. These professional advisors provide free in-home consultations and help customers in figuring out the right technology solutions.
Best Buy has already established itself in key product categories like 4K TV, by partnering with major vendors. The company's strategy to partner with key vendors like Sony, Samsung, and LG to establish stores within Best Buy locations helped in enhancing consumer shopping experience. The company intends to continue to collaborate with vendors under its Best Buy 2020 strategy and expand these partnerships into services and solutions as well.