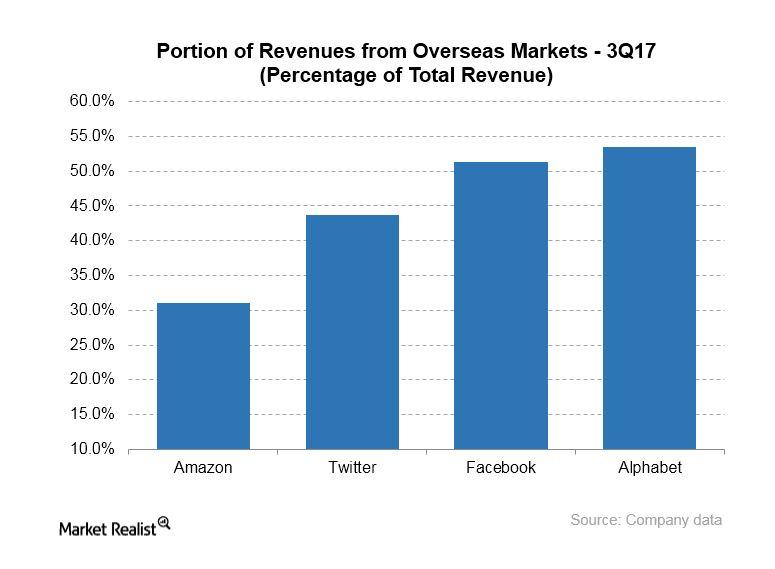 Why Facebook Doesn't Break Out Revenues for Every Country
Facebook's international offices
While Facebook (FB) is present in more than 200 countries around the world, the company operates about 30 international offices. Therefore, the planned shift to a local selling model is expected to affect how Facebook reports sales and pays taxes in the 30 countries that host its local offices.
For the rest of the countries where the company doesn't have a team selling to local advertisers, it is expected to continue booking sales through its international headquarters in Dublin, Ireland.
Article continues below advertisement
The shift to impact revenue reporting in Germany
After Facebook (FB) shifts to the local selling model, the BBC reported that the European countries where Facebook's advertising revenues are reported could change. These countries include Germany (EWG), France, Italy, Spain, and the Netherlands.
Facebook's local selling model involves booking advertising revenues where they are generated directly. With the exception of Australia and the UK (EWU), which started in 2016, Facebook typically books its international revenues in Ireland, which hosts its global headquarters.
As we can see in the chart above, Facebook and Alphabet (GOOGL), the parent of Google, generate more than 50% of their revenues abroad. Amazon (AMZN) and Twitter (TWTR) generate a sizeable portion of their revenues overseas.
Facebook's tax bill could increase
The shift to a model where advertising revenues are reported in the country of origin could see Facebook's tax bill rise if the example of its UK operations is any guide. In 2014, the company paid 4,327 pounds in tax in the UK. However, its UK tax bill has risen since it started practicing the local selling model in the country in 2016.
Facebook paid 5.1 million pounds in tax in the UK in 2016, although the increase in Facebook's UK tax liability tracked closely with the increase in revenues in the country.