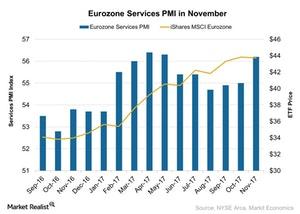 Eurozone Services PMI: Why It Strengthened in November
Eurozone Services PMI in November
According to a report by Markit Economics, the final Eurozone Services PMI (Purchasing Managers' Index) stood at 56.2 in November compared to 55.0 in October. It met the preliminary market estimate of 56.2.
Among various member countries of the Eurozone, France (EWQ), Spain (EWP), and Italy posted stronger services PMIs in November. Their performances boosted the overall performance of the Eurozone Services PMI for the month.
The stronger performance of the Eurozone Services PMI was mainly due to the following:
Production volume and output rose at a faster pace in November.
New business orders and export orders rose in November.
Job growth was the best in ten years.
Article continues below advertisement
Impact on the economy
Solid improvements in the major Eurozone economic indicators and overall economic activity were the main drivers of investor sentiment. The European equity market is expected to perform well in the growing economic scenario.
The Vanguard FTSE Europe ETF (VGK) remained flat in November 2017, and the iShares MSCI Eurozone ETF (EZU), which tracks the performance of the Eurozone (IEV) (N100-INDEX), fell 0.3% in November.
In the next part of this series, we'll look at the services PMI for the United Kingdom (EWU) in November 2017.