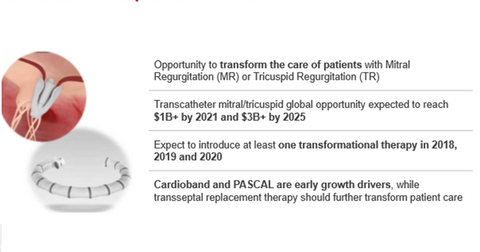 Edwards Lifesciences' New Therapies for Mitral and Tricuspid Valves
By Sarah Collins

Updated
Mitral and Tricuspid therapies market opportunity
Edwards Lifesciences (EW) is focused on expanding its Mitral and Tricuspid therapies business, as this market space is a high-growth area with a significant untapped opportunity. The company is forming a dedicated unit around this business.
Edwards Lifesciences notes that the Mitral/Tricuspid market is expected to reach more than $1.0 billion by fiscal 2021 and more than $3.0 billion by fiscal 2025.
Article continues below advertisement
As per Edwards Lifesciences, Valve diseases are primarily caused by HF (heart failure) and approximately 55% of HF patients have MR (Mitral Regurgitation) or TR (Tricuspid Regurgitation). As per company's estimates, only 1% of MR/TR patients get treated in the United States. Thus, there is a major market opportunity in the MR/TR treatment area.
Mitral/Tricuspid therapies market
Edwards Lifesciences is focused on providing transformational therapies for MR or TR patients. The company expects to launch such a therapy in 2018 and then at least one therapy in fiscal 2019 and fiscal 2020. Multiple therapies, clinical evidence, therapy awareness, and new indications could drive the MR/TR therapy growth.
Edwards Lifesciences has a robust product pipeline in MR/TR therapies. Cardioband and Pascal are the major growth drivers. The company recently added Harpoon to its product portfolio with the acquisition of Harpoon Medical.
While Cardioband mitral valve reconstruction system already has a CE Mark approval, US trials are underway. The company is focused on investment in the commercialization of the device in Europe and US trials.
Medtronic's (MDT) Duran Ancore, Mosaic, and CG Future are among the products used for mitral/tricuspid valve treatment. In August 2017, Abbott Laboratories (ABT) initiated the trial of a transcatheter tricuspid repair device. Boston Scientific (BSX) is also developing this technology.
The Vanguard Total Stock Market ETF (VTI) holds ~0.09% of its total portfolio in EW stock.