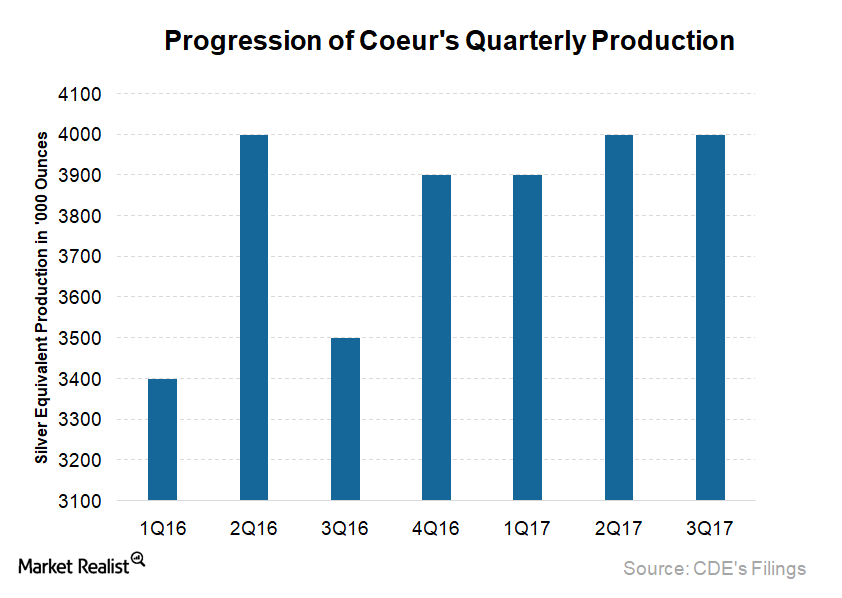 Why Coeur Mining Lowered Its Production Guidance
Production guidance lowered
Coeur Mining (CDE) achieved silver equivalent ounces of 9.5 million for 3Q17. That is comprised of silver production of 4 million ounces and 93,293 ounces of gold. Coeur's 3Q17 production reflects a 7% rise quarter-over-quarter and 10% year-over-year.
The company revised its production guidance for 2017 lower to reflect the persistent drought conditions at San Bartolomé.
Article continues below advertisement
Production drivers
The sequential increase in Coeur's production was driven by the following:
Palmarejo: Production increased 25% to 3.6 million ounces, driven by higher average mining rates. The average silver grade was also 11% higher sequentially due to mining of higher grade stopes in the Independencia deposit. The full-year production at Palmarejo remains unchanged at 6.5 million–7 million ounces of silver and 111,000–120,000 ounces of gold.
Wharf: Gold production at Wharf increased 21% sequentially to 25,849 ounces. The increase was driven by the higher-grade Golden Reward deposit. The mining of this deposit is now complete. The tons placed at Wharf increased 16% during the quarter.
Production at Coeur's Rochester mine in Nevada was almost flat quarter-over-quarter. The company maintained its guidance at 4.2 million–4.7 million silver ounces and 47,000–52,000 gold ounces.
At Kensington Alaska, gold production increased 4% sequentially. The company, however, kept its guidance for the site unchanged at 120,000–125,000 ounces of gold.