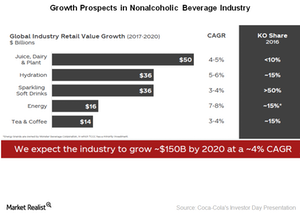 How Coca-Cola's Innovations Could Improve Its Revenue
By Sirisha Bhogaraju

Dec. 19 2017, Updated 12:15 p.m. ET
Persistent decline in revenue
Coca-Cola's (KO) revenue has declined for ten straight quarters. The decline has been due to several factors, including a weakness in soda volumes, currency fluctuations, and structural headwinds from efforts to refranchise its bottling operations.
In 3Q17, its revenue fell 14.6% to $9.1 billion, primarily due to the impact of the refranchising of its bottling territories. Excluding the impact of structural and other headwinds, the company's organic revenue grew 4%, driven by a favorable change of 3% in price and mix and a 1% growth in concentrate sales. Coca-Cola is striving to boost its revenue through the innovation of beverages that cater to changing consumer needs.
Article continues below advertisement
Focus on innovation
Coca-Cola is focusing on expanding its sparkling and still beverage portfolio through innovations in taste and packaging. It estimates that the beverage industry will grow by $150 billion by 2020, reflecting a compound annual growth rate of 4%. The company sees growth prospects in sparkling beverages as well as still beverage categories such as juices and ready-to-drink teas and coffee.
Sparkling beverage volumes have been declining in key markets such as the United States since consumers are shifting from sodas to healthier beverage options. Coca-Cola is trying to address the weakness in soda volumes through higher pricing. It's also innovating low or no-calorie versions and beverage choices with natural ingredients. For instance, the company's revamped Coca-Cola Zero Sugar has been delivering strong results in several markets. This reformulated beverage was first launched in the United Kingdom in 2016 and then rolled out in other markets.
In the noncarbonated or still beverage space, the company is expanding its portfolio through organic innovations as well as bolt-on acquisitions. Some of its notable strategic acquisitions include Suja Juice, Chi Limited in Nigeria, and Unilever's Aloe Gloe.
Coca-Cola is also innovating products based on local tastes and requirements. For example, to cater to Japan's significant aging demographic, the company launched Coca-Cola Plus, a no-sugar product with added dietary fiber.
Revenue expectations
Analysts expect Coca-Cola's revenue in 4Q17 to fall 21.4% to $7.4 billion, mainly due to the impact of structural headwinds. Rival PepsiCo's (PEP) fiscal 4Q17 revenue is expected to fall 0.6%.
Coca-Cola expects its organic revenue to rise 3% in 2017.