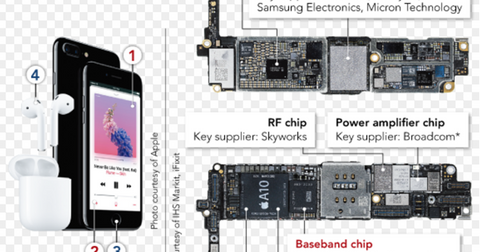 Chip Suppliers and Apple's In-House Chip Designing Strategy
By Puja Tayal

Updated
Could Apple make its power management chips in-house?
So far in this series, we've discovered that Apple's (AAPL) suppliers are vulnerable to production bottlenecks and weak demand for iPhones. These factors impact both Apple and its suppliers. However, these suppliers are facing another risk of losing Apple's orders partially or completely as the handset maker develops its in-house chipmaking ability.
At the start of 2017, Apple announced that it would design its own graphics chips, discontinuing its relationship with British (EWU) graphics chips designer Imagination Technologies. At that time, analysts speculated that UK-based Dialog Semiconductor could be next in line.
Dialog Semiconductor manufactures the main PMIC[1. power management integrated circuits] for iPhones. On November 30, 2017, the Nikkei Asian Review, citing unnamed industry sources, reported that Apple could partially replace Dialog Semiconductor's PMICs with its in-house PMICs as early as 2018. This news sent Dialog Semiconductor's stock crashing as much as 36%, its biggest intraday decline since December 18, 2000.
Analysts noted that although Apple could design its PMICs in-house, the 2018 timeline seems impractical. Apple might replace Dialog Semiconductor's PMICs with its own chips in 2019. Dialog Semiconductor stated that it already has a supply contract in place to supply chips for the 2018 iPhone models.
Analysts stated that more suppliers such as Synaptics (SYNA) and Cirrus Logic (CRUS) could follow Imagination and Dialog Semiconductor.
Apple's potential PMIC
Industry sources stated that Apple's in-house PMIC would be the most advanced chip in the industry, featuring processing capabilities that enable smart power management. The main PMIC controls the iPhone's charging functions, battery management, and energy consumption. Apple's in-house PMIC would be able to deliver improved performance at reduced power levels.
These industry sources stated that Apple would manufacture these chips at its foundry partner TSMC's (TSM) fabrication facilities (or fabs), where Dialog Semiconductor also manufactures its PMICs.
Apple's in-house chip capability
The PMIC is one of the most important and costly components after core processors, memory, and modems. Apple already develops its core processors in-house. Its A11 processors have machine-learning capabilities such as facial, image, and speech recognition.
Apple is currently acquiring Toshiba's (TOSBF) NAND (negative AND) business in a consortium with Bain Capital. This indicates that Apple could meet most of its memory needs from Toshiba.
With respect to modems, Apple currently uses modems from Qualcomm (QCOM) and Intel (INTC). However, its legal difficulties with Qualcomm had ignited several rumors that Apple could develop its own modem. These rumors have been scrapped by analysts as modems represent complex technology, and it would be difficult for Apple to surpass Qualcomm in this area.
Apple also builds its own fingerprint chips as well as its connection chip, which pair its AirPods with other Apple products.
Next, we'll see why Apple is bringing its chip technologies in-house.