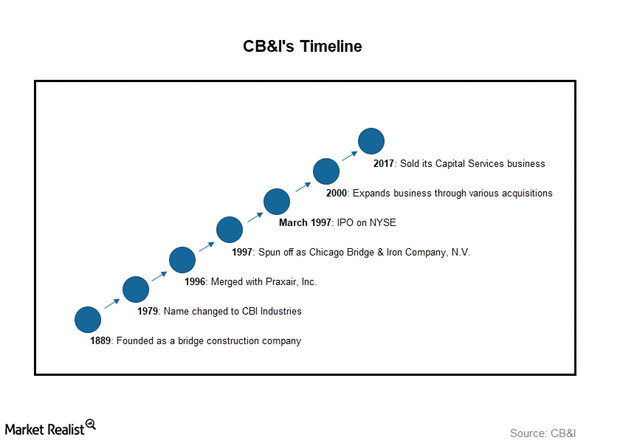 Chicago Bridge & Iron Company: An Introduction
By Alexis Tate

Dec. 7 2017, Updated 2:45 p.m. ET
A look at Chicago Bridge & Iron
Chicago Bridge & Iron Company (CBI) is a technology and infrastructure provider specializing in projects for oil and gas (XLE) companies. It focuses primarily on the following key end markets:
LNG (liquefied natural gas)
petrochemical
refining
natural gas–fired power plants
CBI provides comprehensive solutions and services to its customers, including technology, engineering, conceptual design, procurement, fabrication, modularization, construction, maintenance, and program management.
Article continues below advertisement
Brief history
CBI was established in 1889 in Chicago, Illinois, as a bridge design and construction company. It built its first water storage tank in 1894 and its first oil storage tank in 1919, thus entering the liquid storage business. It promoted the expansion of oil exploration outside the United States by starting operations in South America in 1927.
The company started trading on the New York Stock Exchange on June 29, 1977. In 1979, it was renamed CBI Industries, and Chicago Bridge & Iron became a subsidiary of CBI Industries.
In 1996, Praxair, a Connecticut-based industrial gas producer, merged with CBI Industries. In 1997, the merged company spun off Chicago Bridge & Iron Company as a Netherlands-incorporated company. The new company started trading on the New York Stock Exchange on March 27, 1997, under the ticker CBI in an initial public offering of 12.5 million shares.
The company's corporate headquarters are located in Hague, the Netherlands, and its administrative headquarters are in Woodlands, Texas.
Series overview
In this series, we'll analyze Chicago Bridge & Iron's (CBI) business model. We'll explore how the company has expanded its business and evaluate its key operational metrics and financial position. After reading this series, we'll see how Chicago Bridge & Iron is different from its competitors. We'll wrap up the series by analyzing the company's valuation and factors that could drive it in the future.
Let's start by looking at the company's acquisitions.