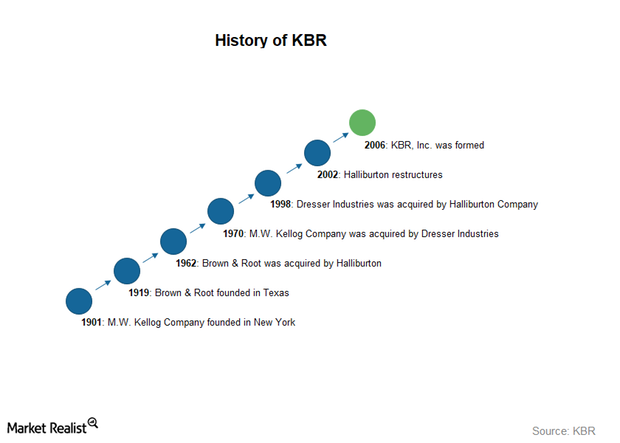 An Introduction to KBR
Brief overview
KBR (KBR), headquartered in Houston, Texas, is a comprehensive professional service and technology provider. KBR operates in the government service and hydrocarbon sectors, maintains operations in 40 countries, and caters to customers in more than 80 countries. Formerly known as Kellogg Brown & Root, KBR was a subsidiary of Halliburton (HAL). The company was formed after numerous acquisitions and name changes.
Article continues below advertisement
Article continues below advertisement
Where it all started
The M. W. Kellogg Company was founded in 1901 in New York City as a power plant fabrication and construction business. Kellogg shifted to Houston, Texas, in 1970. In 1987, the company was acquired by Dresser Industries.
In 1998, after Dresser Industries was acquired by Halliburton, Kellogg Brown & Root was formed by the merger of M. W. Kellogg and Halliburton's construction subsidiary, Brown & Root Engineering and Construction. Brown & Root was founded in 1919 in Texas and was a very successful contractor for the US federal government when Halliburton acquired it in 1962.
Formation of KBR
Halliburton restructured itself in 2002, realigning its businesses into two major groups—Halliburton Energy Services Group and KBR. In December 2003, Halliburton placed KBR and other subsidiaries into bankruptcy as a result of a $4.2 billion asbestos lawsuit. The filing didn't include KBR's military and government operations. In 2005, KBR successfully emerged from bankruptcy protection after a reorganization plan.
KBR was formed in March 2006. On November 16, 2006, KBR started trading on the New York Stock Exchange with a stock price of $17. On April 5, 2007, KBR separated from Halliburton and became a separate entity. We'll talk about KBR's strategic restructuring in the next part of this series.
Series overview
In this series, we'll analyze KBR's business model and explore how the company has expanded its business over the years. We'll evaluate KBR's primary operational metrics and financial position so far. This series may help you understand what sets KBR apart from competitors (XLI) Chicago Bridge & Iron (CBI), Fluor (FLR), and Jacobs Engineering (JEC). We'll wrap up the series by examining the company's valuation and outlook for 2018.