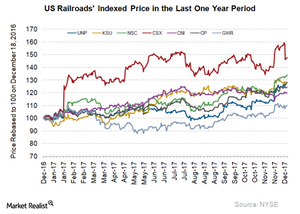 What Added Value to Genesee & Wyoming Stock in 2017?
By Samuel Prince

Updated
Genesee & Wyoming's acquisitions
For the past few months, Genesee & Wyoming's (GWR) stock price has not been trending in line with its peers. GWR is not a US class-I railroad, but it's widely compared with class-I railroads due to the scale of its operations. In this series, we'll look at the company's stock price performance from top-line and carload growth perspective.
The freight volume or carloads of acquired railroads are included in GWR's total carload figure. However, a deep dive in the company's monthly carload data tells a different story. Due to continuous acquisitions, Genesee & Wyoming reports carloads and volume data on a consolidated basis as well as on a same-railroad-operations basis.
Article continues below advertisement
GWR's stock price performance
After a dull 2016, major US railroad stocks started rallying after February 2017. Energy-related commodity prices started rising along with a few industrial commodities, and overall freight volumes were higher YoY (year-over-year), which created a rally in rail stocks. But the subsequent quarterly results seem to have halted the upward momentum due to top-line growth concerns.
On December 18, 2017, GWR's stock price closed at $78.5 per share. The 52-week highest price was $81.7, whereas the lowest was $61.4 in the same period. This means that the company's stock has been trending close to its 52-week-high levels.
Notably, at the beginning of 2017, Genesee & Wyoming returned 13.8% to stock-owners, which was 1% higher than the returns it generated over the past year. When compared with the peer group, GWR's returns are the lowest, as you can see in the following breakdown:
During the same period, the SPDR S&P Transportation ETF (XTN) returned 20%.
In this series
Genesee & Wyoming doesn't report its regional volume data on a cumulative basis, and instead, the company's carloads are compared on a monthly and quarterly basis. In 3Q17, while North American volumes rose 1.4% on a reported basis, European carloads fell 3.9%.
On December 13, 2017, the company reported its freight volume data for November 2017. A quick look at the freight volumes reveals a declining volume trend on a consolidated and same-railroad-operations basis.
In the next part of this series, we'll assess GWR's North American volumes.