Why the British Pound Fell—Despite the Bank of England's Rate Hike
The British pound depreciated 1.41% against the US dollar after the policy statement from the BOE (Bank of England) on November 2.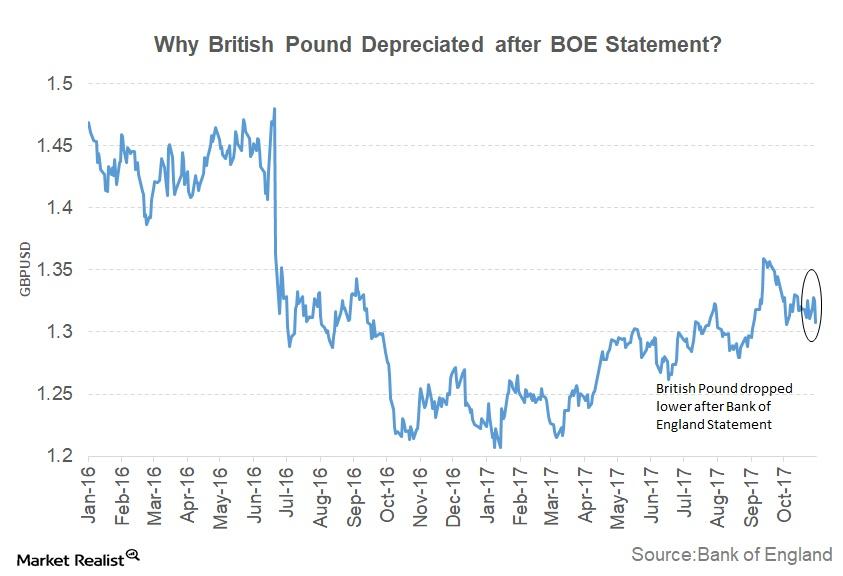 Pound depreciates 1.4% in a single day
The British pound (FXB) depreciated 1.41% against the US dollar (UUP) after the policy statement from the BOE (Bank of England) on November 2. There was a rate hike, which was expected, but what likely triggered the sell-off was the dovish tone of the BOE statement.
Remeber, the BOE has only removed the additional stimulus and has clearly communicated that future rates would be dependent on the economic performance.
Article continues below advertisement
Article continues below advertisement
Brexit uncertainty to limit rate hikes from the BOE
Brexit negotiations are likely to be the key drivers for the pound, bond, and equity markets (EWU). Although the BOE has raised the interest rate, it has said that economic growth would be limited to 1.5% per year and that it would closely monitor incoming data, including the impact of the November rate hike.
The BOE's statement did not discuss the current markets' pricing in two more hikes over the next three years, which is a sign that the central bank would like to keep its options open.
Forward guidance is used to inform markets of any future changes in policy, and this has worked well for the US Fed and the ECB in recent years. The BOE, not using such an option, has thus spread doubt among investors as to when—or if—the rate hikes will continue. This is likely the reason that we've traders exiting long British pound trades since the policy statement was released.
Outlook for the pound
The British central bank has managed to get one rate hike out its way, but the path to normalization is not likely to go on at such a brisk pace. After the recent policy meetings of US (USDU) and EU (DRR) central banks, only the Fed is expected to raise rates consistently, while the EU will have to wait for 2019 until its stimulus purchases are stopped.
For the pound (GBB), Brexit uncertainty is likely to limit aggressive rate hikes because no one knows what the trade agreements will be between the EU and UK.
Over the next few months, with the US dollar remaining in the driving seat of currency markets, there could be a limited upside for the pound. But the risk to this outlook would be a surprising upswing in the British economy and a faster closure to Brexit negotiations.