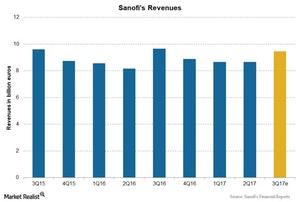 Why Sanofi's Revenues Could Fall in 3Q17
By Mike Benson

Updated
Sanofi's 3Q17 revenues estimates
As discussed earlier, analysts estimate Sanofi's (SNY) revenues will fall 2.2% to 9.44 billion euros during 3Q17. In this article, we'll discuss Sanofi's business structure and estimates for each segment during 3Q17.
The above graph shows the revenues of Sanofi over the last few quarters and estimates for 3Q17.
Structure of the group
Since 2016, Sanofi has reorganized its businesses into five business units:
Sanofi Genzyme, which represents the specialty care business including the drugs used in the treatment of cancer and other rare diseases
Generic Medicines and Emerging Markets
Diabetes and Cardiovascular
Consumer Healthcare
Sanofi Pasteur, the human vaccines brand for Sanofi
Segment-wise performance in 3Q17
Sanofi's business is reported in two business segments:
Pharmaceuticals segment: Sanofi Genzyme, Diabetes and Cardiovascular franchise, General Medicines and Emerging Markets, and Consumer Healthcare
Human Vaccines segment: Sanofi Pasteur
The pharmaceuticals segment revenues are expected to fall in 3Q17 mainly due to lower sales of diabetes and cardiovascular drugs and lower sales of established brands. The decline will likely be substantially offset by increased sales of Sanofi Genzyme during 3Q17. Sanofi Pasteur's revenues are expected to increase during 3Q17, mainly due to an increase in sales of meningitis vaccines and adult booster vaccines.
The PowerShares International Dividend Achievers ETF (PID) holds 1.3% of its total assets in Sanofi ADR (SNY). PID also holds 1.3% in Novo Nordisk ADR (NVO), 1.5% in Novartis AG ADR (NVS), and 1.0% in Teva Pharmaceuticals ADR (TEVA).