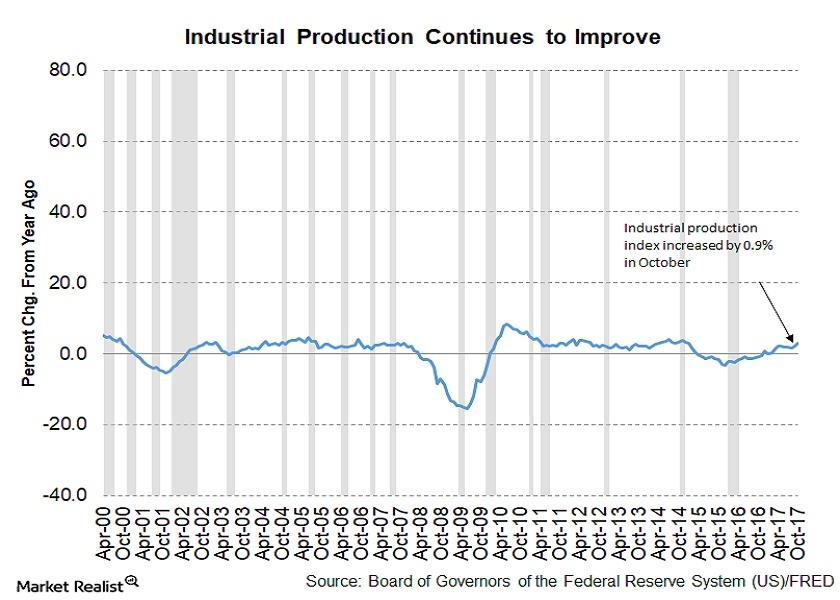 Which Industries Increased Industrial Production in October?
October industrial production up
The October Industrial Production report was released by the Federal Reserve on November 16 and indicated a continued rebound in key sectors of the US economy. In October, industrial production improved by 0.9% (month-over-month), beating the market expectation of 0.5% growth. The YoY (year-over-year) change was 2.8%—an impressive improvement from the September 2017 reading.
This economic indicator measures the output of industries operating out of the US. An industrial production index tracks the performance of the manufacturing (XLI), gas and utilities (XLU), mining (XME), and electric sectors. Changes to the index can be used as a forward indicator of demand in each industry, and equity markets (SPY) respond positively to continued improvements in industrial production.
Article continues below advertisement
Continued recovery from hurricane slump helps industries
October represents the second-straight month of gains after the declines seen in August, when various industries were impacted by hurricanes. According to the Federal Reserve, the index would have risen 0.3% if the impact of hurricanes and the related rebound were not taken into consideration. Industrial production for July through September was revised upward, further reducing the impact of hurricanes on the sector.
Which sectors have improved?
In October, manufacturing sector production improved by 1.3%, and the key performer was the auto sector, which showed an improvement of 1%. The non-auto manufacturing sector posted gains of 1.3%—its highest monthly growth in a decade. The only sector that underperformed in October was the mining (PICK) sector, which witnessed a decline of 1.3%.
In the corresponding part of this series (below), we'll analyze the changes in capacity utilization in US industries in October.