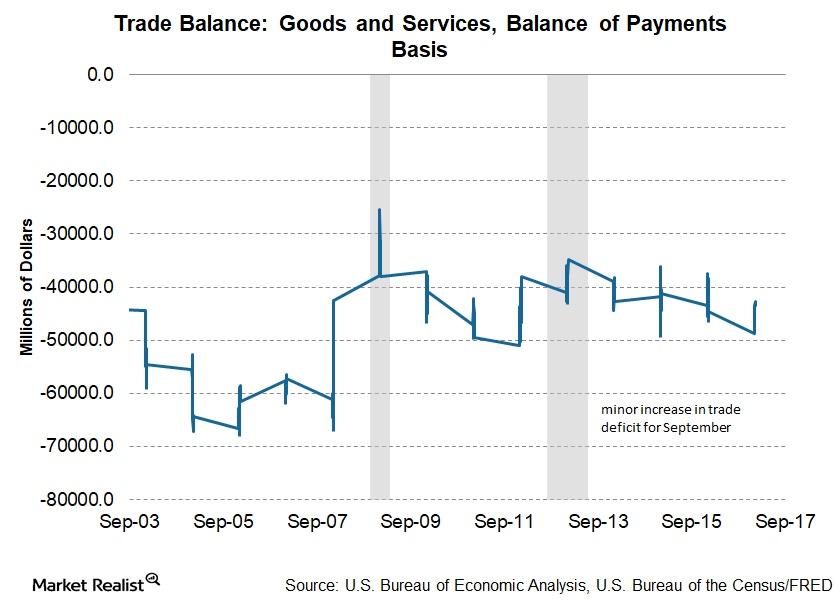 What Led to the Rise in the US Trade Deficit in September?
US trade deficit rose by $0.6 billion in September
The US Bureau of Economic Analysis publishes a monthly report on US international trade in goods and services, detailing the changes in imports and exports. The latest report was released on November 3 and indicated that the goods and services deficit was $43.5 billion in September, or $0.7 billion higher than the $42.8 billion we saw in August.
In September, exports rose by $2.1 billion—the highest level since December 2014. Imports rose by $2.8 billion, with an increase noted in all major import categories. YTD (year-to-date), imports and exports have risen 6.3% and 5.6%, respectively.
Article continues below advertisement
Changes in trade-based industry
The key factor that impacted import and export numbers in September was the reopening of ports and refineries in the US South that had been impacted by hurricanes. Exports rose by $1.9 billion in the industrial (XLI) supplies and materials industry and by $1.1 billion in the crude oil (USO) industry, while the pharmaceutical (PJP) sector saw $1.0-billion fall in exports.
Imports, capital goods, semiconductors, and civilian aircrafts witnessed an increase in imports, but imports saw a decline in automotive (CARZ) parts, vehicles, engines, and passenger cars.
Deficit, surplus by country
According to the September trade reports, the US has the highest trade deficit with China ($29.9 billion) (FXI), followed by the European Union ($14.6 billion). The US has a trade surplus with a few other countries, with Hong Kong leading with a trade deficit at $2.7 billion.
One key highlight of this trade report was the shift from deficit to surplus with OPEC (Organization of the Petroleum Exporting Countries) members. The US recorded a trade surplus of $0.6 billion in September, compared with a deficit of $0.8 billion in August.
Remember, trends in trade are unlikely to change in the near term as there's no major change in trade policy expected to be announced soon.
In the next part, we'll discuss why markets were disappointed with the October payroll data.