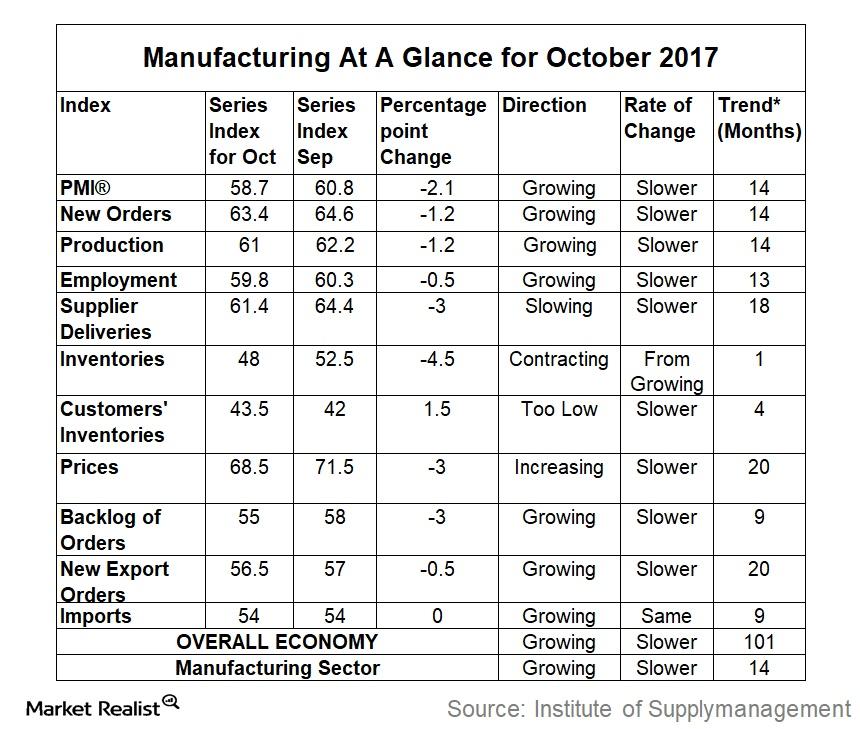 What Caused the Fall in Manufacturing Activity in October?
Manufacturing activity expanded at a slower pace
The ISM (Institute for Supply Management) publishes a monthly manufacturing (ITA) report that gives insight into the manufacturing activity in the US. The report has many chapters, but the major focus is on the PMI (purchasing managers' index), which for the month of October fell to 58.7, compared with 60.8 in September.
The October manufacturing PMI saw a 2.1% fall, but many believe that this isn't necessarily a reason to worry.
Article continues below advertisement
Reasons for the drop in the manufacturing PMI
The key reason for the drop could be that the post-hurricane demand for manufactured goods (IGA) in September has cooled off a bit in October. The index is a diffusion index that is collected by surveying purchasing managers, and any reading above 50 suggests an expansion in the manufacturing (VIS) sector. The sector has recorded 14 consecutive months of expansion.
Key highlights of the Manufacturing PMI report
According to the October ISM report, only two of the 18 manufacturing industries reported stagnant growth. The index tracking new orders and production continued to improve with a reading above 60 in October. The number of jobs tracked by the manufacturing sector (IYJ) employment index dropped in October to 59.8 from 60.3 in September.
Overall, the manufacturing sector (FXR) is still expanding, and the drop in activity in October could be due to normalization after the September spike. To be sure, any tax cuts—if a tax bill can make its way through the various factions of US Congress—would likely add to the pace of expansion in the sector.